How did it arise?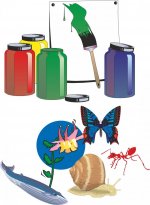 Thu, 24 Jun 2021
Exquisite the painting,
admired, bestowed
delight for the viewers
and compliments flowed …
but not to the artist
whom none of them knew,
though others had met him
and warned he could sue …
yet …
they stated that no-one
could paint such a scene
and formed complex theories
of how it had been
gradually growing
as chance dabs of paint
accumulate somehow,
and if any taint
arise, quickly covered:
amazing and pleasing
clever composition,
skilful creation
but that is its history
we're sure, no mystery! …
 
The artist, astounded,
returned –
they're confounded!
[IP: use an allusion, in particular definition #4 in the OED "A covert, implied or indirect reference; a passing or incidental reference" ]