Jewels from the jail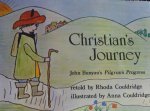 Fri, 28 Jul 2017
A tinker rough soon had enough
of trying to live better,
but overheard himself referred
to as their town's corrupter.
He tried again, reformed, but when
he heard some women share
about God's touch, new birth, and much
of Jesus' love and care …
knew he'd not felt God's kindness melt
his stony heart of sin,
nor come to see that grace is free,
its payment none can bring.
Men said, 'Don't preach, this gospel teach;
nor tell of your experience',
– he simply spoke, and simple folk
found help, and joy, deliverance.
Thrown into jail – but there a tale
took shape among the squalor;
with pen and ink, and time to think
he wrote the finest ever …
An allegory plain that brought acclaim
from then 'til now, today:
word-pictures apt – a journey mapped,
of life upon faith's Way.
Of bog and slip, and fears that trip,
of enemies, deceivers,
of foolish lapse, and idle naps,
and warnings for believers.
God's guiding Word – his pledges heard
from fellow travellers met,
a friendly arm to keep from harm,
and cheer when hurt, upset;
of danger dragon, Despair's foul dungeon,
and Mr Worldly Wiseman,
Evangelist and Formalist,
relief from guilt's big burden;
companionship, and fellowship,
encouragement, and endurance,
death's river crossed, a future blessed,
reward for perseverance.
[Poetry monthly: Where I Write. This isn't personal of course, but of the writing of the most famous 'Pilgrim's Progress' by John Bunyan while in Bedford jail]