Kids' Contrasts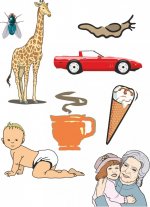 Sat, 19 Sep 2020
The giraffe is tall,
the fly is small,
the sun gives light –
so it's dark at night.
The snail is slow
– but watch the cars go
– fast! – keep away!
Ice creams are cold,
but Mummy's tea is hot;
Great-granny is old,
but your sister is not
– she's young and can't walk
or talk, but you talk a lot –
a chatterbox!
A feather's light,
the shopping bag is heavy;
sometimes we get a puzzle right,
but sometimes get it wrong;
your sister's hair is short,
but yours is long,
the cat's fur is soft,
but the yard is hard;
the swing swings up
and then it comes down;
see the aeroplane go
high in the sky,
but we watch from here,
on the ground far below.
[IP: Contrasts]