A New Normal @ 100 years!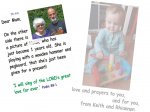 Wed, 29 Jul 2020
Troubled childhood,
uneasy marriage,
now enjoying company
in Care Home –
to watch, can't hear
or read normal print,
or follow TV.
Clinging to regularity
of son (and his wife) visiting
– "I couldn't cope if you
weren't coming in,
so I know you love me".
(memories surfacing
of childhood loneliness,
feelings – maybe unjustified –
of rejection, of being unloved).
Comes Covid, and family
have to isolate
even before Home has to lockdown.
Will she understand,
she can't hear,
will the staff be able to explain?
We sent a letter 'big print'
– she loves to read
with her one partly working eye
if it's 'big print'
– concisely explaining
we can't visit, because …
with pictures and news, reminders brief
and, a photo of us
at the top, like an address.
Amazingly, this was accepted as
us still visiting, loving.
We thank God.
It has become a contented 'normal',
a new 'episode' received every
two or three days, and probably
hoarded and read and re-read..
And now, we could visit
but with distancing (no hugs)
and mask or visors
(lips are so important for
the very hard of hearing)
and smiling mouths shielded.
We felt that as the New Normal
has been accepted,
such visits might prove
disturbing, confusing.
– "Let us know if she
needs us 'in the flesh'".
'We will'.
Until a previous 'normal' can return?
[IP: The New Normal]