What Am I? (IP)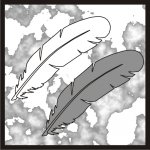 Mon, 10 Aug 2015
With white fluffy long-johns
I braved winter weathers,
well hidden on mountains,
by snowy white feathers.
When rocky ground showed
in the summer, I lost
my whiteness (grew mottled),
with vanishing frost.
But come winter weathers
I'll grow more white feathers
to keep myself warm again,
and come to no harm again,
and I'll dig through for heather
with my snowshoes of feather –
for I am a Ptarmigan
(with an unsounded 'P,'
it's pronounced starting 'T') ,
and each season my changes will charm again.
[IP: 'The summer I lost my...']