Winter Wonderland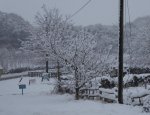 Mon, 11 Dec 2017
Trudging through the snow
– like royal icing fresh –
sinking softly at each step,
progress slow;
all is silent, paused and still
– a world of wonder;
white fluff piled high upon
each graceful twig,
"pom-poms" decorating bushes,
thick duvets sliding off the cars,
dirty slushy quiet main road
but elsewhere all pristine
though slightly tramped,
sky pregnant with the store of more.
Reach the care home:
skeleton staff cope, care
– will they have to stay the night?
will replacements reach?
Maybe tomorrow the sky will clear,
the sun appear,
snow cover sparkle
–watch out for ice!