A Capacity for Violence Chapter 3
Image: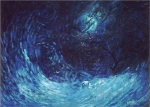 Fri, 12 Jul 2019
THREE
The business card was a cooling blue, the confidential Freephone number a garish red. The website address suggested inspiration as well as offering on-line succour. Crowe turned it over in his hand. The thought of counselling, the earnest listener on the other end made his stomach turn. He was about to crumple it, toss it in the trash when he heard the front door lock turn. Quigley let himself in,
            "Jaysus, the place stinks. Would you open a window for fuck's sake?" he said.
Crowe looked up from the table, two hours sleep carved into his features,
            "Hello back," he said.
Crowe rose from the table, toast crumbs following him like a debris field. He opened the window and pushed the extractor fan on. It limped into life.
At Seventy, Quigley was still a formidable presence. The last of the beat cops, the Garda who walked the pavements of Crumlin, Dolphin's Barn and the no-go's of Drimnagh pulled up a chair. He had known all the safe-houses, known all the characters. His beat and its criminal environs had the unspoken agreement of mutually assured destruction.
His big hands swept the crumbs off the table before leaning his elbows onto the surface.
            "I have to move you on, son," he said.
He had called every rookie 'Son'. The old dog had mentored Crowe and his generation as surrogate urchins like an oversized Fagin. If you did well, it was 'son'. If you fucked-up, you were a 'pup'. Quigley's washed-out grey eyes flicked around the apartment. His slicked back hair now white, made him look like Brando. Behind his back, Sergeant Francis Quigley had gone by the moniker 'Godfather'.
            "Social Welfare are on my back, some technicality with the security of tenure. You can stay another day or two, but then you have to go. How's the wife, Sinead isn't it?"
            "Threw me out."
            "Tough break – any friends?"
Crowe pulled a cigarette out and lit it. He offered one. Quigley refused.
            "Apart from you?" said Crowe.
            "If I'm your only friend, son, you're in real fucking trouble,"
Quigley reached into the top pocket of his work shirt, his homage to blues guitarist Rory Gallagher. Quigley could on occasion, belt out a mean 'That's Alright Mamma'. He handed Crowe an envelope.
            "This should help,"
Crowe counted out the cash.
            "Courtesy of widows and orphans - seen a doctor?" asked Quigley
            "Yep."
            "Care to elaborate?"
Quigley made the chair groan as he leaned back. He carefully adjusted his elbows to allow his hands spread across the table. He viewed Crowe clinically, like some piece of meat that had washed up unexpectedly on the shore.
            "Nope. On leave, Frank. Stress. Review after next hearing."
            "How long?"
            "Could be up to a year."
Quigley whistled.
            "Seems I've accumulated a lot of flee or fight hormones. Need to flush the system." Said Crowe. What Crowe omitted was if another breakdown occurred it'd be twice as bad and twice as hard to treat.
            "Meds?" asked Quigley.
Crowe thought about the small gram of coke he'd been given as he had left the HR hearing. Harris had his uses. The little cellophane packet bound with an elastic band if found in his possession would escalate a crisis to a full-blown arse-out-the door conviction. He'd given all his bloods at the medical and everything had come back clean. Cholesterol was off the chart, but whose wasn't these days? He wanted to flush the Bolivian marching powder, but some destructive voice made him worm it deeper into the fleece's pocket. In case of emergency break glass.
            "No, don't need them," he replied.
            "You'll have to play the game, son. Counselling – who's your Union Rep?"
            "Harris. Phoenix Park."
            "Fuck me, that pup? How did that happen?"
            "Yep. Tea? Coffee?"
            "Flying visit, son. I've a broken radiator in another property Northside. The natives are getting restless."
Quigley too was the last generation to use the word 'Nigger' as a casual throw-away. He had over the years in the force, learned to use the term 'Negro'; as in "The Negro in the wood pile." – his default assessment of an operational clusterfuck. He slid the over-stressed chair back and held out a huge paw.
            "Friday, latest. Leave the key on the table. Turn everything off. Clean the place."
Before he left, Quigley pulled out his battered aged wallet, smoothed to a sheen. He took out a folded piece of paper.
            "Phone this guy. Owes me a few favours. Has a seaside letting."
            "Don't have a phone."
            "You can afford one now, pull yourself together."
Crowe could feel sudden, unexpected tears welling. Quigley softened.
            "It's just a speed-bump, John. None of this will matter in three months. None of it."
Crowe wiped his eyes with end of his tee-shirt.
            "Best get some exercise too, son. Friday, yeah?"
            "Friday, keys on the table, everything switched off."
            "There's a hoover in the cupboard."
Quigley took his time leaving, making a mental inventory of things marked, damaged or missing. The family might want to return, have a legal right to return, but rest assured, Quigley will have a maintenance bill attached.
            "Good luck, son. Enjoy the beach."
The door closed as silently as it had opened.
Crowe needed to get a phone.