A Capacity for Violence Chapters 1 & 2
Image: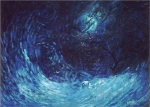 Thu, 11 Jul 2019
ONE
April
P.J. Crowe known to his friends; which could be counted on one hand, less a thumb this morning as 'Podge', listened for the outer door. He opened his mouth slightly to improve his hearing, every sense homing in through several floors of concrete and metal. The dawn chorus of bangs and clatters of the complex's denizens departing for work had since abated. Crowe felt a tug of envy at the sound of the chirrup of car alarms and grunting over-revved engines departing for the early morning rush hour tailbacks. Crowe didn't have a car of his own, not anymore. His mobile phone was locked in a drawer in the bowels of Garda HQ. He wasn't sure if he needed one now. In the past thirty-six hours, he had abandoned the vape and started mainlining nicotine via the pack of B&H 20's lit with a cheap red plastic BIC which he spun idly on the kitchen table. His third instant coffee loaded up with sugar had congealed into a brownish mass at the bottom of his striped mug. Last night's meal, a large bag of chips stood in folded greasy defiance on the dinner plate. Its passing smell still lingered in the pokey kitchen. Some of it remained cloying in his four-day-old stubble.
The apartment's previous occupants unceremoniously dumped out onto the street had left a few clues to their identity; empty nappy packets, a full packet of baby wipes, a stale half pan of sliced bread and a jar of instant coffee. In the fridge, small yoghurt pots, a half carton of full fat milk and cheese dippers lay dotted between the shelves. A small testament to the peripatetic life of the twenty-first century nuclear family waiting for social housing. The newest addition, a stack of lager had already been heroically demolished by Crowe with his chips. Beyond the pokey kitchen that was nearly the width of his shoulders, a roof-top-high leaden pall of cloud belched sporadic pulses of rain across Dublin. The city framed in the kitchen window's greasy sill resembled a smeared charcoal sketch.
Crowe was too drained to care.
Too drained to feel about the plight of the previous tenants. Sometimes small favours came at a heavy price. A Pyrrhic friendship driven by misdirected brotherhood and loyalty. The yellow tee-shirt found in a tallboy in the spare bedroom stretched across his gut. His boxers hung limply around his hips, he had to hoist them as he rose to rinse the plate and cup. He swilled the cold dregs and downed them in a gulp. He scratched himself idly. Then he heard the bang of the outer door. A second later a splash of rain across the window told him the door had been wrenched from the postman's hand in the sudden squall. A sudden cold draught wound its way under the front door and pinched at his toes. Some sixth sense told him that there would be something for him in the post box. Some umbilical tendril to the BIG MACHINE was still hard-wired into his psyche like an infection. The BIG MACHINE never accepted failure or rather failure it couldn't hide, deny, cover up or redirect to some far-flung rural station. His shoes were still drenched from the night before, his only pair, both stuffed with newspaper perched uneasily on the radiator. He spied under the swiss army knife of an IKEA sofa; his bed and storage, a slipper. Fishing around he pulled it and its companion out. Squeezing them onto his gnarled heels, he found they folded out into fluffy spotted rabbits, left behind by their previous owner in the departure. One ear refused to rise on his left foot and clung stubbornly to its owner's head.
He pulled on his fleece over the tee. His wardrobe, such as it was, lay stuffed in a large hold-all, his worldly goods and underwear packed into side pockets and folded plastic supermarket bags. His home, his wife Sinead and his son Cathal, were as distant now as the moon. Remembering what happened the day before, Crowe looped the apartment key around his finger.
He wouldn't be startling the Polish family the floor below today.
Crowe looked out through the peephole. The corridor was deserted, backlit through the dirty glass and cast in an off white. He opened to the door. His doctor had advised he get more exercise, Crowe debated this as he pressed for the elevator. It was only when the doors whispered open that he realised he hadn't put on his track suit bottoms. He debated returning to put them on until the doors began to shut, then he jumped in as if attempting a parachute jump.
The elevator's cold metal floor worked its way through the rabbit slippers. He shouldered himself deeper into the waterproof fleece, the last remnant of his identity: Garda Inspector P.J. Crowe, Murder Division, Dublin Metropolitan.  
It was a very long way down.
            Crowe had forgotten the apartment number. Apparently, this was normal. He ran a grimed finger down the lines of names on the letterboxes until he guessed the blank strip was his. Opening it, the pulled the official brown envelope out. Central was the stamp of the Harp. Underneath, his old postal address crossed out. The new address carved into the envelope in blue biro was misspelled, Crowe sensed this correspondence had boomeranged around Dublin franked and re-franked into a kaleidoscope of numbers; he was mildly insulted not to have had a courier hand it to him for sign off.
He took a breath and opened it.
Private and Confidential (in red – must be important); he skimmed,
"In Accordance with S.I. 214 of 2007, Section 123 of The Garda Síochána Act 2005"..
            Crowe's eyes flicked,
                        … "(Police Section of Northern Ireland"…
                        Crowe skipped to the next paragraph
                                    "It is the opinion of the Garda Commissioner that this is the desirable course on review of the disciplinary hearing 08 / 02 / 2019, and also after careful review of your service record to date and previous.."
Crowe searched for the punchline – he wasn't disappointed;
            "It is the decision of the Commissioner that you, Garda Inspector Pius John Crowe are suspended for three months without pay for that duration, thereafter to be reviewed on a date decided by the Commissioner,"…
Crowe blinked.
Ohshitohfuckohjesuschrist, he thought.
THE BIG MACHINE had spoken and thrown him onto the street. He was fucked.
TWO
Crowe walked up the stairs to the apartment. Each step was like sliding through mud. He let himself in and leaned against the door when it closed. Jesus, he thought. Crowe plugged in the kettle for no other reason other than it was close to hand. His hand was shaking. He slumped into the kitchen chair. He should've taken the advice of his union rep and taken a quiet pension. Pick up a sinecure at a supermarket chain busting hoodied shoplifters until he turned seventy. But Crowe had resisted. The enormity of the letter's contents stunned him. He read it again, this time slowly; all his cases would now be on hold. Others would have to pick up the slack. Passwords and emails diverted to other desks. Grist to the mill for his line manager, Chief Superintendent Dáithí O'Suilleabhain; Mr-Páirc-Ui-Fucking-Chaoimh himself – a ramrod-straight Cork man who strode through the office everyday like he was lining out for an All-Ireland final. Ramrod straight and bitter with it too,
            "What were you thinking, Crowe?" said O'Suilleabhain.
They had sat in a HR office away from their station. Away from the journalists, hacks and everyday rubberneckers. Facing Crowe was O'Suilleabhain, not a button out of place. Beside him, the head of HR, a sharp-dressed woman named Townsend seemingly ironed into her well-cut suit. Beside Crowe sat his Union Rep, Ryan. Ryan made a concentrated study of his spired fingernails as the hearing played out, a well-dressed cat in a loud tie staring at some feline middle distance. A line of mineral water bottles acted as a no man's land between the opposing parties. Crowe got the gist from Townsend's Dublin 4 drone – Government front bench reshuffle last week, new Minister of Justice; she doesn't like violence, keen to make her mark. Sees herself as a new broom dealing with old male archetypes in the force. Opposition baying in indignation, making the Gardai a laughing stock, bringing it into disrepute. Twitter, Facebook and Youtube having a field day. Memes, Gyphs and commentary on every possible thread. Assault is assault, Inspector Crowe. For some reason Townsend felt compelled to show all the known available footage. Her laptop projected the images onto a wall. Ryan didn't seem to raise any objections. His aftershave was overpowering, Townsend's nose snuffled in reaction. Crowe stared now as if out of his body, the office some sort of screen in his head projecting a scene.
It was when Crowe landed the first punch, the haymaker on the U-14s soccer coach that it all came into sharp relief. Various POVs had been cross-cut on one video to show not only Crowe bearing down on a smaller man in a Neanderthal rage, but the expressions on the faces of the children on both teams. Including Crowe's son, Cathal.
Cathal had stood, shoulders slumped when he should have been performing his dab. He had spent weeks perfecting it as a goal celebration, insisting that Crowe and Sinead watched. Instead Cathal watched his father hammer into the man who had waved and complained that Cathal's goal was off-side. The smartphone footage then began to break up as parents and linesmen tried to prise Crowe off the battered and bleeding coach.
            "His solicitor has brought a civil action against the force," uttered Townsend. Every syllable enunciated from her thin red lips a scalpel cut.
            "I'll repeat the question, Inspector Crowe, what were you thinking?" said O'Suilleabhain.
            "It wasn't offside," said Crowe.
O'Suilleabhain's uneven hurling scar above his smooth upper lip worked its way into a snarl.
            "Although this is an informal disciplinary hearing, I'd be grateful if you address me by my rank, Inspector."
            "It wasn't an offside, Chief Superintendent, sir."
Townsend made a derisory snort, or perhaps a new waft of Ryan's aftershave had crept toward her and triggered her sinuses.
            "I'd like to re-iter-" she began.
            "Listen. That coach was a little martinet. A little fucking Quisling," said Crowe. He was as surprised as everyone else around the table at the aggression of his tone.
            "Not all of us have had the benefit of a private education, Inspector" replied O'Suilleabhain.
Somehow, Ryan decided to end his reverie and stop Crowe's next retort in its tracks. It was a private incident, Crowe was entitled to anonymity, only one of the parents there recognised Crowe and tagged the Garda and National Broadcaster feeds. It had become a circus overnight.
            "Assault is assault, gentlemen and the Minister wants this resolved immediately. Immediately, gentlemen." Said Townsend.
THE BIG MACHINE had spoken, and the resolution was swift and brutal.
Crowe knew it. Ryan knew it and O'Suilleabhain knew it too. Sinead had shown him the door. Cathal had blanked him,
            "I'm changing the locks tomorrow," she had said in that distant voice that Crowe knew as marital purgatory, "You can fuck off with yourself, P.J."
The kettle whistled forlornly, and he scraped the last of the instant grounds into his cup.
Garda Inspector P.J. Crowe began to cry.