Excerpt from EAGLES HUNT WOLVES - Who the hell is Henry Chainbridge?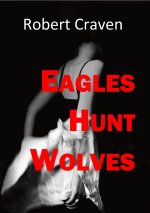 Fri, 10 Jan 2020
1 likes
Berlin 1946
Wendell H. Keyburn watched the ruins of the city flash by from the back seat of the British Embassy car. The upholstery was plush, the engine no more than a whisper.
    "What's that camp there?" he asked the driver.
    "That's the Tiergarten, sir. They're refugees, sir. German civilians, sir," said the British driver, a solid man of limited conversation. They turned from the Victory column and meandered around Allied checkpoints and armoured vehicles.
    The woodland was totally denuded. Stark slashes of destruction and rubble interspersed with army vehicles and military outriders flowed past the car windows. The gutted Reichschancellry and the battered Brandenburg Gate appeared and disappeared in a haze of still-burning fires.
    The driver pulled up outside Charlottenburg Palace, Union Jacks now swaying where scarlet swastikas once hung. A dapper-looking bureaucrat was waiting by the battered kerbside. He opened the door smartly,
    "Good morning, sir. I trust you had a pleasant flight?" he said.
Wendell H. Keyburn was a short man who nevertheless managed to occupy a lot of space. His flat nose and lipless mouth gave him a pugilist's mien,
    "Let's get this over with…?"
    "Hopkins, sir," replied the bureaucrat, "British Intelligence liaison, Berlin sector."
His hands were remarkably clean.
They strode into the new Headquarters of the British Zone; once a hub of Prussian power, now reduced to an English civil service outpost. Keyburn's patent leather shoes, paisley bow tie and perfectly fitted Garfinkel double-breasted suit clashed with the subdued surroundings. Everyone stood to attention; Keyburn was here on President Truman's direct orders.
With Roosevelt dead, Churchill chucked out of power and a potentially communist-backed Atlee government in London, Hopkins extended the royal treatment for the nation that had dropped two atomic bombs.
    "What do we know about this guy?" asked Keyburn. His Missouri cadences bounced around the hushed corridors.
    "Only gives his name, rank and serial number, sir," said Hopkins.
They came to a stairwell leading to cellars below. In one smooth movement, the file under Hopkins´ arm was handed to Keyburn.
    "Hopkins, I've hop-scotched non-stop from St. Joseph, Missouri, to Nova Scotia, to Greenland, Iceland, Scotland and Paris to be here, it had better be damn good," said Keyburn. He leafed through the file as they walked. His hands were soft and smooth, a haberdasher's hands, thought Hopkins. He noted Keyburn pronounced his state 'Muzoorah'.
    They descended another flight of steps to the cellar.
    "He was released by the Russians a few days ago in exchange for another asset they wanted. This one is interesting, though," said Hopkins.
    Keyburn stopped and turned towards Hopkins. Pulling on a pair of thick black framed glasses, he stared up at the liaison, thinned out by army rations.
    "Why?"
    "The Russians found him shot and injured outside a U-bahn station, dressed in a Russian army uniform. He was shipped off as a POW to Buryrka Prison; then press-ganged onto a construction crew building a new prison wing in the Lubyanka in Moscow."
    "So, he's a spy?" asked Keyburn. "Ours or theirs?"
    "Neither, I'm afraid. Though one can't rule out either possibility."
    "No, one can't. I haul-ass across the Atlantic Ocean on the orders of the President of the U-S-A, for a meeting with a kraut soldier who's been shot in Berlin?" said Keyburn.
Hopkins, who was used to peppery American personalities from the O.S.S. since the armistice, calibrated his smile and tone to be as disarming as possible.
    "Here, it gets interesting; our boy in the cells below turns out to be a mountaineer – AOK Norwegian, going by his rank and number. One of the Politburo's scions took a little Nikkita up a mountain and promptly got himself into a spot of bother. Your kraut private, as you call him, put together a climbing team and rescued them. Earned himself better prison conditions."
    "Better conditions?"
    "Less whippings and a cell that didn't have a layer of ice on the walls. Here we are."
A burly MP saluted them. He took their identity papers and cross-checked them methodically. He handed back their papers and opened the cellar door with an impressive looking key.
    "Cell three, Gentlemen," he said
    "After you, sir," said Hopkins to Keyburn.
    "We better not be boiling the ocean here, Hopkins," said Keyburn.
The huge wine cellars had been converted into holding cells. The corridor smelled of wet cement and mould. At the door of the third holding cell, Hopkins produced a heavy looking key on a chain, and turned the lock.
    Inside, sitting at a modest table facing two empty chairs was an emaciated man. His head was shaved. Lines were etched into his skin, the cheekbones angled into deep shadows beneath the naked light bulb. But his blue eyes snapped between Keyburn and Hopkins with quick intelligence.
Keyburn pulled his chair as far away from the table as possible.
    "I don't have lice," the prisoner said. "Currently."
As he spoke, he reached to the back of his shaved head and idly picked away at some old and irritating bite.
    Keyburn patted his own buzz-cut. Swinging the chair about face, he straddled it like a rodeo rider.
    Hopkins eased his slender frame onto the remaining chair and tucked it tightly under the table. He straightened the dossier Keyburn had tossed there and took out a packet of cigarettes and the lighter.
    "Your English is excellent," he said to the emaciated man.
    "I'm fluent in Russian too," the man replied.
    Hopkins offered the cigarette, the emaciated man declined.
The three sat in silence. Somewhere above another door clanged shut with a titanic boom. The three men stared up.
    "This gentleman here is Wendell H. Keyburn of the O.S.S.," said Hopkins.
He lit a cigarette with deliberate movements.
     "He's flown all the way from St Joseph, Missouri."
    "That is a long way," said the man.
    "You know America, son?" asked Keyburn.
    "A little," said the man, "Cowboys – bang-bang."
He pointed his two forefingers at Hopkins as he spoke.
    "In America, son, we wouldn't be sitting at a table politely requesting information from you," said Keyburn.
The man scratched idly at his crotch beneath the table. The dungarees were Russian prison issue; fumigated and washed. No point in dressing him in anything else if they were going to throw him back into the gulag system, thought Hopkins.
     "What were you doing outside Stadmitte U-Bahn station in a Russian army uniform?" asked Hopkins. As he spoke, he leaned forward over the desk in a kindly manner.
    "My details are all there, gentlemen," said the man. Despite looking down on his luck and close to an unmarked grave, his voice still carried self-assurance. He looked like the kind of man who, when all the smoke had cleared, would still be standing. In the naked light, his forehead shone with a light fever.
    "Answer the question," said Keyburn. His voice ricocheted around the brickwork.
    The man stared at Keyburn. He remained silent.
    "You were found shot in a Russian army uniform outside U-Bahn Stadmitte and we caught three high-ranking Nazis fleeing from the Reichsbunker," said Hopkins.
    Keyburn abandonded his seat and stood with his hands on his hips.
    "Look, here's the deal; either you start talking, or we throw you back into the Russian fish tank we found you in. Simple as that, Bub."  Keyburn's tone was hardening.
    The man remained silent.
    "Who were you driving?" asked Hopkins.
    "Who said I was driving?" asked the man
    "Your uniform and insignia. What happened to your vehicle?" replied Hopkins
    "Vehicle?" said the man.
    "There was a breakout from the bunker; a few of your High Command were spotted at Kaiserhof U-bahn – the station before Stadmitte – who were you arranging to meet?" asked Keyburn.
    The man stared silently ahead. He spread his hands out on the table. They were strong and calloused.
    "You have my name, rank and serial number," he said. "If being stripped naked, beaten, held down on a table while being whipped didn't get an answer in Moscow, you two have no chance."
    Keyburn's expression darkened. In the naked light, his eyes seemed to sink into the recesses of his skull.
    "You claim to have information. I'm waiting for that. You were found near Hitler's bunker in an Allied uniform, a Russian driver's uniform. Who were you driving?"
    Silence.
    "Who shot you?" asked Hopkins, his words were soft.
    "I was lucky; it was a bullet graze. Upper shoulder," replied the man.
Keyburn approached the table and picked up the service dossier. He took a slow walk around the prisoner, his eyes darting between the file and the man himself. No doubt about it, he was an officer and had seen combat. His other shoulder had a much harsher scar; a through-on-through with an ugly weal of an exit wound that had slowly healed. On his upper arm was a scarred tattoo; some kind of fish.
    The man began to smile.
    "What's so funny?" asked Keyburn.
    "Nothing. You seem fascinated by me."
Keyburn leaned into the man, speaking directly into his ear.
    "You mounted a rescue mission in Russia. Whose kid did you rescue?"
    "I can't answer that.
    "Beria?" asked Keyburn.
    "No," replied the man.
    "Molotov?"
    "I'm afraid I can't answer that – it was a tricky climb; I lost three men on the descent."
    Silence. Then it dawned on Keyburn and Hopkins simultaneously; Stalin. The only way a German POW had any hope of a reprieve.
    "Of course, they weren't buried. They were left to the buzzards," said the man.
He found a new scab on his head to scratch at. 
He reached for a cigarette;
    "May I?"
Hopkins pulled three, shared them out and lit them.
    "Thank you," the man exhaled.
He turned the cigarette around and admired it as if it was a fine liqueur.
    "I'll only talk to one man – Henry Chainbridge."
Hopkins and Keyburn stared at the man.
    "Tell Henry Chainbridge I need to talk to him. I'm an active member of Int. 7., And I have information. Vital information. Chainbridge, H-e-n-r-y Chainbridge," said the man.
    Keyburn leaned forward, his fists were balled.
          "Who the hell is Henry Chainbridge?"
purchase here..
https://www.amazon.co.uk/gp/product/B083D1B14Y?pf_rd_p=f20e70b1-67f9-48d1-8c78-ba616030b420&pf_rd_r=QKFD1JGPTJPBF96F769J