Excerpt from new novel HOLLOW POINT. The fishing boat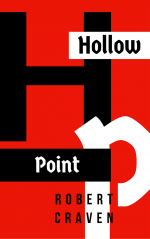 Sat, 11 Feb 2017
Buenos Aires
Brandt stared down at the oily waters slopping around the hull of the vessel.
"Ever been on a ship before?" asked Carrington. Chainbridge had introduced him in the hotel; a New Zealander. He was a tall man, if he jumped down onto the deck, he'd still be making eye-contact with me, thought Brandt.
"A dinghy for an hour, but that's it," replied Brandt.
It had been off the coast of Finland and he had been trying to prevent Lenin's body leaving the Soviet Union. That was three years ago; the year he met Eva.
"Suffer from sea sickness?" asked Carrington.
"I didn't then," replied Brandt.
"Trust me, you will," said Carrington. "Can you swim?"
"Yes," replied Brandt.
"Well that's a plus - this is your home for the next week," said Carrington.
He threw his duffel bag onto the uneven deck. A small, burly man appeared from the dilapidated bridge, his unkempt hair was pulled casually across his bald pate, a few strands caught the breeze,
"And this man is going to train you. Pryce, this is Paul Hauk," said Carrington.
"Carrington," nodded Pryce, "what have we got here, then?"
"An oiler," said Carrington.
"A greaser?" replied Pryce. He spat a long stream of tobacco juice onto the deck.
"Exactly," replied Carrington.
Dawn was breaking and Carrington's eyes sought the shadows. He squatted down, lowering his profile.
"Throw down your bag, Mr. Hauk, quickly now."
Brandt tossed the bag, Pryce stepped nimbly out of the bridge and caught it easily. He held it up as he shook it.
"Overalls?"
"In the bag."
Pryce tilted his head at Brandt's voice and his eyes took on a steely glint.
"German?" he asked.
"Swiss," replied Brandt
"Same thing to me," said Pryce.
"You?" asked Brandt
"Not important," replied Pryce.
"Best get aboard, Mr. Hauk," said Carrington.
The eased their way onto the slowly pitching deck.
Ships began to ply their way out of the harbour; the little ship bobbed in their wake.
Brandt offered his hand.
"Hauk. Good to meet you."
"Nice to meet you. Sounds more English," whispered Carrington.
Pryce took both of Brandt's hands, his grip intense.
"Good hands, strong hands," he said, turning Brandt's hands over. "Factory worker?"
"Mountaineer," replied Brandt. Pryce's grip intensified.
"Mountaineer?" he said.
"Guide, the odd rescue," replied Brandt.
With a flick of the wrists, he released his hands and grasped Pryce's, matching pressure for pressure.
"Finished reading my palms, Madame Zelda?" he asked.
The glint re-appeared in Pryce's eyes as Brandt's grip tightened.
"For now," replied Pryce. "Know anything about engines?"
"I can start one with a hammer," replied Brandt; it was a common occurrence along the Russian front.
"He'll do," grinned Pryce.
"Now let's show you your new home," said Carrington. "I hope you like enclosed spaces."
He descended into the engine room.
"Jesus Christ," muttered Brandt. It smelled worse than the decks above.
 "Let's get to work," said Pryce. The narrow walkway on which they stood sat between two engines.
"Six hours on, six hours off, your bunk is in the bow. Your primary duty is to keep the engines lubricated and familiarise yourself with the gauges," said Carrington.
Brandt wriggled into his overalls.
Pryce studied him momentarily before continuing.
"Think of this humble little vessel as a floating city, it needs light, water, electricity and sanitation."
"Sanitation?" asked Brandt.
"Toilets fall under the remit of the oiler, boyo. Now let's begin with the engines," said Pryce.
Brandt pulled the folded engine schematics Chainbridge had given to him from his pocket. Pryce snatched them out of his hands and crumpled them.
"You pull these out on The Aurora, you are exposed and we are all dead," said Pryce.
Brandt stepped forward until he was toe-to-toe with the diminutive man. Pryce didn't budge an inch.
"This isn't the Aurora and I'm a thorough man, Pryce," said Brandt.
"He's right, Mr. Hauk. No papers, just hands-on," said Carrington. He was stooping so low; he was almost addressing the floor.
"The docks have eyes and ears everywhere, Mr. Hauk – by now we've been seen and noted, we will have been remarked on in the wharf side taverns and yes, we may even reach the ears of Mr. Foucault and his low-life comrades in the Abwehr by nightfall," said Pryce, his steely gaze switched over Brandt's shoulder.
"Best get underway, Mr. Carrington, also radio Chainbridge, let him know his esteemed colleague is safely aboard."
"Now, Mr. Pryce. Show me what to do," said Brandt.
Pryce produced two thick wads of cotton wool and divided them up into four.
"For your ears," he said, stuffing two wads into his own.
The engines belched into life and the little boat glided out into the River Plate and out toward the ocean.