a Jazz copy called Vanessa
Image: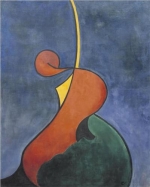 Sat, 09 Jun 2018
I have a bass guitar,
Its a Jazz-copy that I call Vanessa;
Vanessa is my road bass,
and travelled around with me in a battered
old flight case.
Along the highways of Ireland, Wales and England.
Vanessa travelled by car, boat and plane to Holland
and thrummed and boomed
like thunder in its clubs and bars.
The pick-ups are old, The frets worn smooth
and the rose-wood neck is scarred by the fingered steel-wound strings.
The body's chipped and grooved from nightly use for a decade and two.
The finish has lost its lustre, but not her rich, lush tone.
Vanessa lies in the shadows of the wardrobe, the shoulder strap twisted up like a serpent,
waiting for your fourteenth birthday.
Waiting for the next generation of anger...