Meet Henry Chainbridge - an excerpt from EAGLES HUNT WOLVES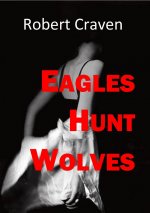 Fri, 10 Jan 2020
Oxfordshire, England 1946
His hair was as absent-minded as his cardigan. The gallery, a modest faux-Tudor building on the main street of Little Shotton, had the polished brass plate Fine prints & antiquities a speciality mounted at eye level. It had been retrieved from the bombed-out rubble of its previous premises in London. Anticipating what was to come, the man in the cardigan had shipped the contents for storage in Scotland. Now unpacked and dusted down, they hung proudly on display. Unlike its owner, the gallery exuded an organised feel, each gilt frame perfectly level, each old publication standing neatly to attention on polished oak shelves. Delicate pamphlets and prints were displayed under glass. The shop itself gave off the distinctive aroma of beeswax.
           "This exquisite miniature is a fine example of the Restoration Court era," said the man in the cardigan. His features, though a little sunken, had a hawk-like profile.
The couple stood uncertainly staring at the piece. The man, taller and older than the woman, idly filled a pipe while waiting for his companion to decide.
          "I'm afraid tobacco smoke wouldn´t be conducive for any of the pieces hanging here," said the man in the cardigan. Its elbows had patches of different material.
           "Put that thing away, Geoffrey."
           The woman, pretty in a Cotswolds-fete sort of way, leaned in close to the miniature.
           "How did you come by this?" she asked.
           "I acquired it recently from a stately home struggling to make ends meet," the man in the cardigan replied. "The artist is Gibson."
           "Richard Gibson – a dwarf, I believe?" said the girl. Her voice had a musical quality.
           "Yes, he was of that nature, but it certainly didn't impact on his gifts."
The man with the idle pipe glanced at his watch. Like their clothes, it was expensive.
           "Ruth, we are a little pressed for time."
His voice had a reedy, nasal quality. He was at least twenty years her senior.
           "Gibson took a wife of the same stature, and they had a lavish court wedding," said the man in the cardigan.
           "How divine," breathed Ruth. He could see by the way she set her jaw that a decision had been made. No turning back. The man in the cardigan wondered if Geoffrey knew what he had let himself in for when he said, 'I do.'
          She stood straight and gave a satisfactory click of her tongue.
          "For that alone, we shall have it. Do you like it Geoffrey?"
          "If you love it darling, then yes, I love it."
A man of action, thought the man in the cardigan. He smiled to Ruth.
          "An excellent choice. I'll arrange the provenance and necessary paperwork. Is it a gift?"
           "An anniversary gift," replied Geoffrey.
          "We're a year married today," chimed Ruth from the back of the shop.
"Congratulations to both of you."
Geoffrey strode to the counter and pocketed his unlit pipe.
          "Cash?"
          "Always welcome, sir. If I could have some details?"
          "My office will handle the necessaries," said Geoffrey.
He produced a pocketbook and counted out the notes.
          "The young lady was very taken by it. There's a clarity and honesty in the work, don't you agree?"
          "Everything she's taken by costs me money," muttered Geoffrey.
Turning around, he seemed suddenly alert to Ruth admiring another picture.
           "Darling, our train…" he called out.
She raised a delicate gloved hand in a shooing fashion without breaking her stare.
He turned back and pulled out a business card.
          "Still, it keeps her quiet, eh?"
           "A woman's touch, I feel, brings a touch of elegance to every endeavour."
Geoffrey Harvey, Overseas and Foreign Office Procurement Department, London read the card. London: the city of kites and crows, thought the man.
          "Now we really must leave – Ruth?"
Ruth came to the counter reluctantly.
           "I promise we will come back. Thank you Mr…?"
           "Chainbridge, Henry Chainbridge."
          "Thank you, Mr. Chainbridge. May I say, I love your accent – Scottish?"
Ruth's smile lit up this dark and dusty world, momentarily banishing the faint waft of decay.
          "Northern Irish – Belfast, and I grew up in Liverpool."
          "Good day," said Geoffrey.
In a burst of jingling door chimes, the Harveys left. In the bright sunshine, framed by the shop window, they climbed into the waiting taxi. They seemed oblivious to the privations of rationing. Petrol was in short supply; the fare would cost a small fortune. Geoffrey and Ruth Harvey certainly weren't mend-and-make-do like the rest of the country.
It had been a good morning – the Richard Gibson miniature and an Augustus John portrait had been sold.
Henry Chainbridge tapped his fingers along the counter. In another time, such success would have been celebrated with a fine Turkish cigarette and a large whiskey.