Choices, Past and Present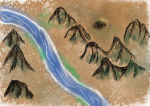 Sat, 20 Oct 2018
1 likes
She could count her as kin. More or less. A third or fourth cousin, a few times removed and by marriage. A tenuous link, a thread. She wondered if the witch would see it that way, if she still considered herself to be kin to anyone. If one-sixth of the rumours were true about her, then it was doubtful she owned one-tenth of human blood, and only a fraction of that fraction of any relation to Krislyn. So perhaps she'd take one look at this windswept girl and snort her dismissal, send her packing. This fool girl who came to waste her time with such a stupid and trivial, girlish question.
The fates of nations have hung on my words, girl. The lives of millions, and you come to me troubled by your love life, and the weakness in your soul that can't let you make a simple choice. I should splinter your bones for the audacity to even stand here.
Though it didn't seem simple, and it didn't seem trivial. In the ordering of the universe: surely. But in her own life… and that was the only life she had to work with. Her stamp on the universe, however tiny, would have to be made with that life.
And so, she trekked the hillside, tramping her way through long grass, and over steep, hanging inclines, because this was where the witch's house was meant to be, and because she had just one question: Jeddos or Bangrif?
#
The house, when she reached it, had been carved out of stone. Roughly hewn out of the cliff, it sat in front of and beneath great slabs of stone that'd been driven into the earth, and another laid across them, looking as much like an altar as a house. A great slab on which the innocent might be sacrificed, a slab that might be slick and sticky with new and old blood. Except that any such days must be long, long in the past, since the stone house was now thickly grown with moss and lichen, layered with enough years of dirt that grass and poppies, daisies, dandelions, monquits were growing all over and around it. A stubby little well sat to one side of it, an odd stone pillar – white and unmossed – to the other.
Egilfraith, the Witch of the Hills.
Or so they said.
Great, great, great, great aunty-cousin-in-law Egilfraith. If that stood a chance of counting for something.
Krislyn approached the house uneasily. She half-expected dragons to form out of the air and come swooping down on her, red and bloodthirsty, trailing flames. She thought beasts might erupt from the earth, or poisoned vines might fling themselves from out of the rocks and lash at her like whips. Perhaps an insect storm, glowing like tiny stars? But there were only a couple of long-haired cats who lounged at the front of a leather-curtained doorway, who challenged her with their eyes, but scattered at the last moment, darting behind some rocks and watching no less intently. The white pillar gleamed a little bit, a trick of the light made it seem to flex and ripple.
Did she call out? Did she knock?
Instead, the curtain shifted, and Egilfraith slipped out from behind it.
Just an old woman. Those were Krislyn's first thoughts. She was small and hunched, with a tattered shawl over her shoulders, there were no fingerbones around her neck, no hideous warts, and certainly not the blood of children staining her teeth. A little shrunken grandmother. And yet… she was darker than most, and her face seemed strangely lumpy and puckered, her eyes having a purplish colour, her ears pressed tightly against the sides of her head, and her hair, almost more like fur, wolfish, and with traces of gold – not ordinary yellow, but the metallic glint of gold thread.
Memories stirred, memories of rumours.
"Well, child, you have not come for nothing."
Krislyn swallowed. "No. I've come to ask a question."
"The tree will answer."
She felt a tight shiver run over her. Was this madness after all? This serious danger, this delving through the universe's order, to satisfy her own wavering heart? Wasn't she the saddest and foolest girl ever, to be doing this?
The witch said, "I won't bite you. My teeth are blunt and worn. I assure you of that. I'm no more formidable than that I tend the tree."
"I do have a question. I have payment."
"Let me see."
She lifted the cloth from her basket to show apples, potatoes, yams, oat-cakes and honey. To show a small statuette made of silver – she had spent every groding she owned to buy it – and some straw, and a long woollen winter hat. "Is this… right… are these the things…?"
Only the statuette was spoken of – the rest was guesswork. Were coins or magic needed after all? The fingerbones of children? The polished skull of an unborn baby?
"I do like yams," the old woman said. "Come inside then."
Krislyn found her legs frozen.
"You're terrified."
"I don't know exactly why."
"I do. Come, Krislyn."
No point in protesting that she'd never given her name. What point even trying to keep secrets from a witch?
"Do come. Or do I need to enspell your feet?"
Was she laughing? Softly and inside her head? Krislyn was almost sure. She braced herself, and followed the witch inside.
#
A simple cottage. Sheep-skinned, and straw-padded. A firepit in the centre, and herbs hanging from the roof. No sign of the silver and gold this witch was surely plied with for her services. There was a chair in the corner, wooden and embellished with carvings, stained with red varnish, and footstool beside it.
Krislyn figured the footstool was her seat, and squatted there, fiddling with her skirts.
Egilfraith settled into her chair. She sat it as if it were a throne. "Tell me, my girl, what seems to be the trouble?"
She blurted, "Is it true that you have blood of the krel people?"
She immediately regretted the words.
#
Egilfraith fetched her soup from a cauldron hanging over the fire. She ladled it into a bowl and smiled at Krislyn to eat.
"I'm sorry," she whispered, "I didn't mean to pry."
But it was too late not to. The words had come out of her mouth. And in the moment they had, the witch had reacted. Her face had changed, turning suddenly red and scaly, with her eyes bursting out her head – white, round, marbled eyes – and an aura of reds and greens suddenly spreading over her. The air had solidified at once around them both. It had only been for a second or two, but it had felt as if the world would freeze and break. No good to come of mentioning the krel.
"But it is true," Egilfraith told her. Her voice was conversational, pleasant, as if that scene of a few minutes ago had never been.
"I'm sorry."
"No need to apologise for curiosity."
"Mama tells me I'm overly nosy."
"Well, well. And the truth is, I am in a way descended from the krel" – no explosions when she mentioned them – "by my mother's hand. And because she loved me. That may sound strange to you…"
"No…"
"Tsk. There's no need to lie. I am certainly an oddity. What do you know, my dear, about the krel?"
Once again, her mouth, unable to stop itself: "They're evil."
"Oh?"
"Sorry."
Once again, such a grandmotherly smile. "Well, it's not quite so simple as that. The krel are a people not anchored in the world. They live in the in-between, in the gaps between substance, in the shadows cast by shadows, the darkest spots in the forest. You get the idea. And they sustain themselves from us, they hold their form by feeding off ours."
"They call the dead."
"They call the dead. The dying, really. Call them into the beyond, harvesting parts of them as they dissolve. Some people call it a curse. Others a slice of immortality. It depends on your perspective, I suppose."
"I heard… that is… the dead screaming…"
"Perhaps. Who would know but the dead what it feels like to leave the world, to be sifted into the other, to let the krel reap off you what they need?"
"Incomplete souls… never at peace… I don't know if that's true."
"A question for the dead. But I haven't the magic to ask it of them. So, if you want the opinion of the living: I have no sorrow for what I am. Listen: my mother was pregnant. But she sickened with it, she could not keep down so much as a spoonful of porridge, and as her time neared she got thinner, spindly, even while her belly swelled. She knew her baby was dying. And she knew a place in the forest where the krel could be found."
Krislyn had heard of this. Girls who found themselves pregnant when they ought not to be, creeping out into the forest to offer their wombs up to the krel – to save their reputation, to save what they could of the child. A woman whose baby died inside her might do the same. "If she was so weak…"
"They might have taken her too? That they might. It was a gamble on her part. And the krel found her, leaking out from amongst the trees as a dark, shivering mist. They laid what might be called hands on her, singing inside her head. They could save her child, they could heal this baby, but the mother must die in her place, and the baby must be born with a trace of krel."
"She agreed?"
"I don't think she had any choice by that stage. They were around her and in her, tainting her blood, flowing into her womb. She went home to her family and told them what she'd done. She weakened all the further in the days that followed. She birthed her child before dying. A child born violet-eyed but healthy. Three shades darker than either parent; and magical. There is always a price, you see."
"I know."
"The tree will ask one too."
"I understand."
"You don't. But you won't be dissuaded."
"I'm sorry. I really won't."
"Ask then."
And she felt a fool. She did. But she felt at the same time the pounding urge against the back of her head – she had to ask. "You see, there are two men. Neither one of them has asked me, not yet, but I know they've both got eyes for me. One or the other will, if not both. And I can't decide, you see. I'll make a life with one of them, and so it matters. Jeddos or Bangrif?" She felt the heat of her shame. Why had she come here?
The witch only leaned forward, taking both of her hands. "Tell me about them."
"Bangrif is the most handsome. And he's smart, he has the quickest wits of any man in the town. And he knows how to make me laugh. He's intense and he's unpredictable, I don't know what he's thinking."
"And Jeddos?"
"He's kind. He's gentle. He's thoughtful. But there's always such a seriousness about him. I don't know what he's thinking either, but with Jeddos I can ask him. And he'll tell me. But it's something distant, something about the future: what will become of this family, or that cottage? When will the young lord return with a wife?"
"And so, you'll have to choose?"
"Yes."
"No-one else can choose for you? Your father?"
"He… he wouldn't want that. He's not decisive. He'd fret about it and he'd never make a choice. My grandfather chose for my aunt you see…"
"And chose poorly. Leaving her alone and abandoned."
A guess? – such a fate would make sense of what she'd just said. Or was it more?
"That is your question, Jeddos or Bangrif? One or the other?"
"Do you know?"
"I only keep the tree. The tree will answer though."
"Can we, then?"
"You have come all this way, my dear."
#
Krislyn followed the witch down a narrow, low-ceiled flight of stairs leading underground. The stairs had been cut from the earth itself, stony and tangled with roots, and the door that lead to them, she was sure it hadn't been in the stone cottage when she'd walked in there. But when Egilfraith had gestured towards it, it was there, and seemed to have been there the whole time, in plain sight.
"This way," she'd said, lighting a lantern, guiding Krislyn down.
They came to the bottom of these stairs in a dug-out cavern. There were roots hanging from the ceiling, and more pushing up through the ground. Mushrooms grew. And against one wall: a tree – or rather a weaving of branches and leaves. They seemed to form a carpet against the walls, white-barked, and the leaves with traces of gold and silver, a slight glow drifting off them, dark veins in the leaves.
The tree shivered. Its twigs reached out a bit.
"Are you sure?" Egilfraith asked her.
"This'll hurt?"
"Yes. And you may not come back from it."
"I…"
"And yet you will."
Her second thoughts were huge. If she married the first of them to ask, she'd never know the opportunity she missed. She'd be happy enough with either one of them, live the ordinary life every girl lived, eat, drink, work, play, love – just like anyone. But what if I'm not ordinary? And why should she think that?
"Go forward. It waits."
She sensed that she mustn't, and yet at the same time, even more so, that she must. She wondered if the tree was calling her, because it felt as if her feet moved of their own volition, puppeteering her over to the mishmash of branches. Krislyn reached her hand out, let the leaves brush softly against the inside her palm. She felt them prick, felt the pressure against her skin. She squeezed her eyes tight as the first twig slid beneath her skin.
And then.
Fire first. A searing facsimile of burning, as if fire travelled up her veins, through her arm, across her shoulder, exploding in her head.
And then white-fire light enveloping her vision, washing over everything.
And then darkness.
And then Hurrendel, home, set out against the surrounding hills as they cast their purple shadows. The brief minutes of dusk, before night set in. And Jeddos, coming in from the fields, taking her hands, telling her how well the crops grew, as she told him in turn how the children did. Hand in hand, into a straw topped house, two babies in a crib, wispy blond hair beneath woollen caps, and their father tickling each of them under the chin, clearly enchanted. The firelight. Sinking into him, arm in arm, head on his shoulder, while night fell rapidly outside.
Krislyn felt the warmth of the fire against her skin, the warmth of Jeddos beside her. Many years ago, she'd gone to a witch, and the witch had shown her that she would love Jeddos and find happiness with him and so she had…
Her hand pulsed. Lightning pain, jerking her back to reality.
She hadn't thought: she would be choosing one life over another. Two or three or four lives. Those babies…
She was ready to turn her head, to say, No, this isn't right. I'm not meant to know this. But the tree reached for her other hand, pricking her palm and dissolving into the flesh.
Her world jolted. It burned and brightened and darkened.
And then there was Bangrif. He was dressed in leather, studded with iron balls. The armour of a man going to war. She needed to say something to him, to urge him to reconsider. Do you take me for a coward? Shamed before all other men? There was anger in his face, and it spoke of a past. Of trouble between them. Of words and actions… But she felt something there in her arms, something warm. Another child. Dark where Jeddos' had planted fair ones. Her eyes caught this baby's eyes – eyes that were diamond-bright, in a face that was delicate, fine china, so much beauty in one place, so perfect…
The cavern came back. The tangle of the tree. It had a stronger glow, and its dark veins were reddened, its leaves had swelled, there was a fluttering pulse that ran through its bark.
Krislyn stepped back. She held her hands up, seeing the imprint of a twig on each of them.
The witch stood behind her. "One will fade when you choose the other."
"How can I?"
"Haven't you?"
Yes. She couldn't help it. Yes. She couldn't keep from remembering those eyes. And in the same moment, she couldn't forget the small, sleeping faces of the twins who would never now be. Why that one baby over those two? Why did she feel such love? She looked up at Egilfraith. "You already knew?"
"It was for you to know, what I knew didn't matter."
"And my name…"
"Child, you don't need me to tell you."
"I've been here before, haven't I?"
"You know that."
"Then why have I come again?"
"People regret. They seek changes."
"… to what they chose."
"At times."
"Then this… if I chose Bangrif then… Or did I choose Jeddos? Which choice did I make before?"
"My dear, which time?"
"Which…?"
"There is always a price."
"Then I'll see you again, won't I?"
"Until you make peace."
Krislyn stepped out into the night. It'd gotten cold since she'd come into the house, and it felt later, deeper into the night than she'd expected. She pulled her cloak around her, feeling the closeness of the hills, of whatever might be lurking there. She looked at her twin palms, there was nothing telling the tree-patterns apart. And yet one would lead one way, one would lead the other. She pulled her hood up over her head and started off back towards the village.
Picture credit/discredit: author's own work.
Shameless marketing ploy: for more in this universe, my ebook, The Price of Blood, Book One of the Golwerra Stories, can be found on Amazon.com - just saying.