Envy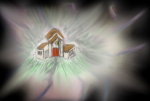 Sun, 11 Jun 2017
Jenny Parkhampton walked home every day to her beautiful mansion.
I would follow her home sometimes.
Her house was everything I could dream of.  Built from spun sugar.  White all over as if it had been polished.  Pillars – as if it thought it could impersonate some great, Greek monument.  Red doors and expansive windows.  A little garden blooming on the roof – square, green, saturated with leaves and petals and thorns.  While out front a courtyard was paved all in hexagons – because squares would be too simple, too ordinary – and benches spread over it, and trees growing, while a fountain bubbled in the centre.
"It's a public building, that's the point of it," I'd heard my mum say.
And my dad would explain: "Well, it's not built for them, it's built to be admired."
And so I admired.  And watched the twinkle of Jenny's shoes when she walked, the flutter of her designer skirt.  Her hair in such neat French braids – metallic silver: the ribbons braided into them; white gold the necklace she wore, with a real diamond embedded in the coils of a white-gold snake.
She was twelve just like I was, but she occupied another world.
#
I didn't notice until I was ready, the way she dawdled as she approached that house.  The moments she spent gathering up her courage.  She licked her gossamer fairy-pink lip-gloss, smoothed down the pleats of her skirt, as she stepped past the letterbox, walked jauntily up to the front door.  There was never anybody waiting, just the emptiness of a hallway.
But her brother would come to the window upstairs to watch her come inside.
#
He'd meet her after school sometimes.  Once he was old enough to drive a car.  A beautiful, phallic Mercedes – all gilt and glint and polish.  Like his shoes, which you could see your face in, like those eyes where you could see the glitter of an empty universe, the fading away of all colours save black.
I trusted my instincts on that one.
I watched from a distance.  The back and forth talk.  The way she leaned into the window, the twisting of her braid in her candy-capped fingers.
#
They didn't tell us what happened, the day she stopped coming to school.  Nobody knew where she went, though we all knew her house was still standing, her mum and dad and brother all still living inside it.  Just Jenny, the empty space.  The promise unkept.  The order never filled.
Gossip ran riot.  Some kids had it on good authority that she was dead.  Others said she was pregnant, hustled away and hidden from view.  Some said that she'd made herself sick, chewing on her nails, then on her fingers, tearing away the flesh as her picture perfect world ate holes in her mind.  Had I ever seen her chew a nail?  Had anyone seen the flesh on her hands ravaged by her own teeth?  One boy said it was she who had killed, a boy from another school, pushed him over a railing and watched him fall ten storeys.  Or so he'd heard.  Or so someone had told someone had told someone else.
#
I think I saw her the other day.  Twenty-odd years later. She looked afraid of falling.
The years had done nothing kind for her.  Thin.  Her hair wrapped in the sheerest scarf, her ringed fingers clasped as she stood and contemplated the sea.  Fragility condensed around her.  No more substantial than tissue paper.  Heels that might snap if she moved.  She didn't see me, but even if she had, she would have seen through me, would have kept her eyes focused on the waves; on that incandescent horizon that no-one ever reaches.
Picture credit/discredit :  author's own work