The Giant King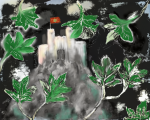 Wed, 25 Apr 2018
Why should I not?  Am I not the greatest king this land has ever known?  Do I not rule over mountains and valleys, deserts and plains, lakes, rivers, oceans?  Why shouldn't such a king take any bride he wishes?
They doubt me.  They come to me, towering men, earth giants, stone giants, crystal giants, all shrunk by their timidity.  Approaching me softly: this has never been done before.
Well, it is being done today.
"What if the forest…?"
"Enough!  I have made my decision.  The boulder is flung – my messenger already runs."
Why should a great king not marry a dryad?  Why not the great lady who rules the Red Forest.  A queen of a sort, and one of the greatest.  Therefore: an alliance, me and she.  Two great powers who'll intertwine their strength to be something so huge, so bright; such a beacon of hope, an apparition of terror.
I wait. The days take forever.  But I wait for her.  Nothing of value was ever completed in a hurry.  Mountains build themselves from mounds – taking millennia, but isn't the end result worth every second?
#
She comes at last.  They call me to the window.  I lean over, looking down, like a boy watching an army return victorious.  I had expected an entourage of sorts: maybe wild horses, or fluttering birds, a mist of butterflies, or flowers simply growing at her feet wherever she walked.  I thought she might glow like the sun, or ripple like the moonlight on water.  But what I see is a woman.  She is small – as all creatures are beside our kind.  Her hair is obsidian-dark, glossy, shaded in ash and firelight, with eyes full of autumn, full of greens and browns and burnt oranges; her skin is a soft cream, shadowed with silver.  Her lips are thick and red.  She is a woman, but I am not disappointed.  Just the opposite: I'm enchanted.
Her dress is more what I'd expected.  All concocted from supple red leaves.  Vines and mosses grow around her, formed into an evening gown, threaded into her hair; but her feet are bare and callused, having never known carpets or silk sheets, having walked on thistles and pine needles, over gravel, baked clay, sun-roasted limestone, to reach this destination.
She kneels before the gates to acknowledge me; and the guards escort her in.
#
I say, in her presence, "You need not fear the dogs.  They won't hurt you."
And she stares at me oddly, head cocked.  Because the dogs are quiet, demure for her, shrinking into her train to acknowledge that she masters them.
What do I know of her kind?  It is said that dryads are beautiful.  Well, no denying that – this woman is probably the finest I have ever laid eyes upon.  They say that they are born of trees, hatching within the trunks of the greatest, tallest ones.  They say that they command the forest, that plants and animals speak with them in words, will do anything they command, will die gladly for them.  Perhaps.  And that they charm men, with a twinkle of their exotic, liquid eyes.
"Lady Methollia."
"You sent for me, Majesty?"
"Yes, I sent for you. Look around you.  This castle, it is built from granite, clad in limestone, again in marble, trimmed with obsidian.  Hot lava poured into the gaps to seal the walls.  Hot iron poured in alongside it.  These walls are impenetrable."
"Nothing is that."
"No.  They are as near as can be then.  And look around at my army.  You have seen the size of my men.  Twice the size of any malformed, quaking human.  There is a reason why I have conquered as widely as I have."
She glances at the bronze scales bedecking my honour guard.  "Impressive," her tone is mild, patient.  This will not be a wife to conquer, she is one who will have to be won, convinced, beseeched.  All the best ones are such.
"Living here, you'll have all you want.  Plant gardens, summon any creature.  Ask for any luxury and it's yours.  You'll dress in the finest silks if you want them.  I'll deny you nothing."
"And in exchange?"
"Wed me.  Bed me.  Join with me in ruling this great kingdom.  Give me sons with such power none will dare deny our dynasty.  Forge a bloodline that'll be the centrepoint of history."
She turns to face me.  Her every movement is like flowing silk; it's liquid and faultless, without edges, without beginning or end.  "But this is not a request."
"No.  No, it is not."
#
We are wed a week from then.  She has no patience for my feelings.  She weds me because she will protect her forest from our kind.  Save it from our torches and axes, save it from shedding our blood in its own defence.  A political union, through and through.  Inconvenient perhaps that I am so enthralled, that my head is so full of her, in every waking moment.  This is what they warned of, the way her charms will slip beneath my skin, will burn inside my head, luring me away from any purpose save hers.
Those scholars underestimate me.  For all that this lady is beautiful, enticing, inspiring; she is still a woman of sorts.  A living, breathing, feeling creature.  And I: I am a king.  Before I am a man or even a giant.  My desires might burn like furnaces, but they bow to my will all the same.
She'll learn that.
But in the meantime there is only merriment.  Why shouldn't there be?  Every fine person is in attendance.  The guest list sparkles.  Men, fey, dwarves and delvens, kipsap and wolf-troll, owl-folk, griffins, ogres and angels.  Unbeaten champions mingle with deadly-strong wizards.  The castle is hung with thick furs, with the gilded skulls of defeated monsters.  The stones are carpeted, and incense mixes with the smell of roasting meats.
We dance.  Then we kneel.  The blood is spilt on the back of our necks.  Each of us swears with our hands immersed in the water of the Bottomless Lake.  We dance again.  There is drinking and chanting and ribald jokes.  Men jump from the battlements, seeking to impress.  There is wrestling.  There are games of chance: lords bet their fortunes in a bid to show fearlessness.
And then we retire to our chamber.
#
Any man who ever learns this I would flay, I would send to the darkness on the other side of death: but I go to my wedding night afraid.
I know from the oldest lore, that a dryad might take any creature as mate.  No man is too large or small, too strangely shaped.  There are stories that suggest a man will transform for her, that he will melt and change to meet her comfort or desire. Or she will transform, becoming the most perfect, ideal, irresistible creature a man has every seen.  His perfect desire, just as he wishes.
But isn't she already that?
And in spite of her power, I fear for her.  I fear I might break her.  She seems so spindly, with her arms bared, with her tiny curled legs, the thinness of her revealed body.  A human wife would break beneath my attentions, and she is no bigger.  Might I kill her?
She smiles, she reaches for me.
I come to sit beside her amongst the furs.
"You do not grin as a man should do on his wedding night."
"Is that what men do?"
"I believe. They say it is customary."
"I've had my share of women.  But all of them have been giantesses, big and powerful.  With legs like your trees.  They were magnificent women, but I've never…" Not quite true.  There have been times, in my youth, in aftermath of battle – some of them human or fey.  Women who didn't survive.
She can see right through me. She can see these acts of brutality.  Can judge them.  And I feel so exposed.  "I was young then… I was still glowing from battle…"  Amongst some tribes of humans such things are thought to be cowards' acts.  And I remember these tiny girls… remember as I never have before… Her doing?
"That is to say… have you…  Are you…?"  This wears against my dignity.
"A virgin?  No."
I put that aside for this moment.  A king's wife should come untouched to his bed.  But this wife is not like others.  The rules are different.
She says, "There is one way alone to beget sons."
"Won't I hurt you?"
"No."
"I find I don't want to.  Is that your magic?"
"Or your conscience."
"I'm not sure I have such.  That a king can afford…"
"A king must.  That's all he can afford."
The words come out of me, unbidden, come out of my soul: "I think I love you," and I think: have I made a great mistake, were the old men right after all, will she rule me and rule through me as her puppet?  Am I helpless?
She says: "Now, that is my magic."  She leans to kiss me, and the hours that follow become a blur, become as sweet and suffocating, intoxicating, overpowering as any moments I will ever know again.
#
In the morning she is unharmed.  I am the one who's harmed.  I can't look at her, at any woman, any man, in quite the same way.
But I am king still.  I send for my breakfast.  I joke with my men that I have known undiluted paradise. I have touched a gold vein that none of them can every know.  Not ten of their wives could compete with my lady queen.
At sunset she's crowned.  There is more glory.  More feasting.
At night she sings herself to sleep, and it is a song that finds its way into my blood.  Into my dreams.  In my dreams I walk a forest thick with shadows, soft with moss, red like a powerful sunrise or a perfectly brewed wine.  The same song echoes between the trees and there is peace on an unprecedented scale.
#
A full year later, she bears me our first son.
This child is beautiful.  A perfect mix of us two.  Tiny though she is, and as full, giant-sized as this boy, still she bears him quickly and without fuss.  Her body seems designed to carry him, to give him life.
I name him Borganfoth.
"An ancestor?" she asks.
"My great uncle.  A fine warrior.  He was a champion.  He wielded two hammers, broke skulls with them.  He fought a dragon once, as a dare.  Killed it too, if you believe that."
"I don't."
She's not all-knowing then?  I've never been sure.  "My father saw it with his own eyes.  Uncle Borganfoth emerged from the fire and smoke, glowing, but dragging the dragon's head behind him.  A nearly full-grown blue it was.  My uncle was burned from his belly to his forehead.  Big, open, oozing burns; but he was grinning in spite of them.  Every man who'd gone to witness was cheering his name."
She looks at me all seriousness now.  "I know that you want your son to be a warrior."
"Of course."
"But there is time for that.  I will have him for only a short span.  Please grant him a childhood, keep him safe for those few decades."
Somehow unexpected.  I'm look at her now, reconsidering.  "I didn't think it would matter."
"Our son."
"Your kind inspire devotion, love.  I didn't know you could feel it."
"We love our children."
And your husbands?  But I know her honesty too well to ask this.
#
He's presented before the castle.  We of the Kanliac clan know how to celebrate.  There is nothing spared, no effort, no expense.  And a king's first son is an event like no other.  It is nothing to have elephants brought in, and it is nothing to have fairies turn the walls to gold, bring the furs to some semblance of life, to make the stone glow.  We bring wizards in to summon creatures of animal, vegetable, mineral ruthlessly combined.  These things that shamble through the halls; or living fires that come to sit down beside us at the table.
What my lady makes of this… She seems to see it only at a distance.  From a great height.  I've learnt: she thinks herself above this.  She is arrogant.  Or she truly is just so far beyond all these tiresome mortal blandishments.  Her lifespan is measured by the thousand-year or more.  She has seen and been all these things, will outlive me, outlive our children.  She can afford to look down on them.
But she is also gentle.  She indulges us reckless fools.  She smiles at my vassals, will dance with them, will bless them.  She holds her child in her arms, and there is love on her face, in her enraptured smile.  She loves this baby as a giantess would love her child, a mother's love, and it transcends race.
I hold the boy up for all to see him.  I show his healthy, well-formed limbs, his unmarked face. I let them hear his health cry.  He is pitted against an oversized rat, a fierce and feral creature, but the boy is a king's son, though only a handful of days old, he doesn't shrink, he fights back. He has his first kill, his hands first-bloodied, and there is unending cheering for this accomplishment.
#
He grows to manhood.
And in time the first challenge comes.  We receive a messenger, gasping from a run of some thousand or so miles.  What he has to report is a rebellion.  "Your Majesty, the Sand Giants do not serve you anymore.  The Widow's Desert has turned its face away.  Our ambassador was murdered there, buried in the sand in an act of defiance."
And how will I answer this challenge?
The messenger waits.  I have him fed and honoured.  I send a curly-haired girl to his room to give comfort.  While she teaches him what his body can do, I gather my advisors, and my wife, and my son.  "This challenge must be answered," I tell them.
Every man is in agreement.
"Send an army."
"Send our finest."
"I will serve, sire.  Gladly."
"And I."
"And I. I will bring you the Sand King's head."
"No," I say, slow, considered.  The moment is arrived.  I find I don't want to look at her as I say this: "It is my son who will bring me that head.  Borganfoth, that army is yours to lead.  Bring these traitors to their knees for me."
Borganfoth has grown up a fine creature.  He has nine brothers now.  All of them show signs of their lineage: size and strength, but also beauty.  Their skin is hard and gnarled, it is like bark, and infused with bark colours, they have eyes in varying shades of gold; rough, strong hair that is more like the hardy plains grasses than it is like the hair of flesh beings.  All impressive.  But none more so than this oldest.  He towers.  His voice can silence a room. A worthy heir.  And it is time he is truly tested.
I turn to him.
He laughs.  "I have been itching for this for years, Father."
"Good to hear.".
He raises his cup.  "A toast, to the brazen Sand King, that he should dare defy us and give us this chance for greater glory.  Here's to him, who has given me my chance to prove my worth.  His head will be covered in the mountains best gold.
#
As he marches off, into the sun's face, my wife sings him away. Long after he is gone, and long after he, or his men, can still hear her, still she sings.  The song is as rich and melodious as it has ever been.
Leaning on the battlements I can't help but ask her about it.
"It's the song of the forest.  I sing it for my daughter."
"Your… daughter?"
"Yes."
"I didn't know you had a daughter."
"I do."
"That would make her firstborn.  Before Borganfoth."
She looks at me as mildly ever.  "Do not harm her.  Do not try. Or I will ensure that your kingdom falls down around you, that your name is scrubbed from the history books."
I believe her.
#
I serve her.  I admit it.  I'm not sure exactly how it came about, over these years, but I know now that I am in her service.  That I love her like a stripling, all-hearted, and without restraint.  I know she doesn't love me in such a way, but I like to believe she has gradually grown fond of me.
My hair is grey now, and my body's might deserts me fast.
No matter, since I have powerful heirs, and a mighty name.  I'm content with the life I've been given. 
Sometimes, in the sunset, I sit with her, looking over the mountains, looking over the forests that have come to grow there in her honour. I reach out to take her hand, and she doesn't refuse it.  Sometimes she sings her song, the one she brought from the forest, the one that ties her to her daughter, and I think – I want to think – that there's a part of me in there too.
Picture credit/discredit: author's own work