Goodbye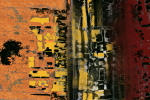 Mon, 22 Feb 2021
He says 'goodbye' to me in magnetic letters on the fridge. Just that. A green G, a red O, a blue O, a yellow D, a blue B, an orange Y, a yellow E. And when I look inside, he's cleaned it out, walked off with the leftover chicken, and my coconut smoothies, and the juice, and my cheese snacks.
It seems like too much of an effort to check the pantry.
You little shit, I think.
But it's done. He's gone. I walk out onto the balcony to see where there's a little plant in a terracotta pot, a pink-flowering succulent, with a little paper-and-toothpick sign that reads just "A" – for Anika, my name.
And in the lounge, a framed sketch hung up of swirling jasmine on a background of mixed brick and stone, incongruous worms and grubs making their way through the gaps where the mortar should be.
And that's it. He's gone.
#
"What's the deal with you two anyway?" My friend Stella used to say that, some nights when we were crashing on the couch and watching chick-flicks, and Danny would just happen to walk by, maybe wearing a shirt, maybe not. Maybe less than maybe-not. He was always so comfortable in his skin.
I'd shrug, of course.
"Are you boyfriend and girlfriend?"
"We're just flatmates."
"Oh, no, no, no, whatever the hell you guys are, you are not just flatmates."
"You could call us friends, I guess."
"You're more than that too."
"Well, I don't know then, because we're not lovers."
"You're really not screwing that crew?"
"Really not."
She'd shake her head to herself, reaching for the chips. "Such a waste of such a hot ass. I'd so be into that if I was in your place."
#
What she doesn't know:
There are times he'd come into my bedroom. Times when he'd crawl into bed and lie next to me. Times when maybe one of us was vulnerable, or lonely, or a little bit broken. We'd lie there next to each other, staring up at the ceiling, and we'd both say nothing at first until the silence had done its work, and then one of us would say what we were thinking, still staring up at that ceiling, finding patterns in those blue shadows, until we eventually fell asleep.
Sometimes we'd cook pasta together, enough for the week, we'd sit giggling and tossing little bits of spaghetti at each other as we ate.
Sometimes we'd watch TV until dawn.
#
Now, don't get me wrong. He didn't really just up and ditch with no more than a fridge-note and a pot-plant, leaving me with the rent-check in hand, and the dishes in the sink. We'd talked about this. He'd talked about wanting to move on in his life, maybe see the world a bit. "I'm going to go up north, maybe in July."
He'd made his plans to leave, he'd given his notice, packed his bags.
We'd joked and talked and speculated about it.
But now. A few letters. A few leaves. A scratch of 2B on thick, textured paper.
Normal people would hug and cry, maybe go out for a dinner, or drinks.
Normal people would have done it differently.
#
"Look, I'm just saying," – Stella sometimes felt the need for an intervention – "you've been living with a guy for nearly five years. You've moved flats with him, twice. That's not what regular flatmates do. You buy stuff together; you own stuff together…"
"You, Jean and Tara still own thirds of that washing machine."
"Don't change the subject, it's different."
"Why?"
"Something hanging between his legs."
"I don't see why that's different."
"Yes, you do."
#
Is she right then?
Because we never, never fucked. We never kissed. We told each other our deepest secrets, saw each other ugly, wasted, confused, pathetic. We sat in the dark, in the middle of the night sharing beers, sprinkling cracker crumbs all over the carpet.
There was almost a dog.
We went as far as looking at a dog, scratching him behind the ears, considering him, imagining him on the furniture. Neither of us mentioned what would have happened if one of us moved out.
Like one of us has.
I mostly think to myself: you're such a little coward.
And I think: this is all so silly.
I know I'm going to give him a few days and then I'm going to send him an email, and tell him what a moron he is, and what a dick move it was just bolting out like that. And what a terrific wuss he was not to say goodbye for proper.
I also know I won't move the magnets, or the picture. I know I'll water the plant.
I'll message him to tell him how silly those things were, even as I hold onto them and catch myself staring at them with something a little bit like longing.
Because, I'll write, it's not like you're never coming back, and it's not like we're going to lose touch with each other.
Because we won't.
People do. But we won't.
And then I'll wait for his answering email, and I won't feel quite at ease until I get it, and the house will feel empty, and the days will seem longer, greyer, somehow less important. Stella will come over at times, raise her eyebrow at the untouched fridge-letters, shake her head at me because she knows I should know better.
Picture credit/discredit: author's own work