Homecoming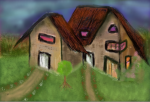 Tue, 05 May 2020
The House:
A sliding scale of angles
 - angels? –
You might see them where the edges connect,
And where the sun catches the glass,
Where the rainbows slide down the trellises
And imbed in the cacti, in the white river pebbles, amidst the faces of roses,
All crimson, all chameleon-match-for-the-sunset.
Old memories scurry around the garden paths,
They unbury secrets – coins buried amongst begonias,
Teddy bears left for dead amongst the shrubbery.
Open the door,
All the light comes flooding out,
You could slip on it, walking inside.
You see the robot, gears a-spinning,
Up-and-down the kitchen, keeping things even,
Keeping uppity appliances in their place,
Knives and forks at right angles
 - Wrong angles are not permitted –
Spoons at the back, quiet and ashamed and underused
- 'desserts are for special occasions now, we eat enough sugar –
"How was your drive?" says the robot in melodious, uninflected voice.
"Quiet," you say, though you already don't remember.
Did you drive over here? You suppose you did.
Memories are everywhere, and in memories you never had a car.
The floor shakes when the golem walks.
And the light fades.
The golem drinks these meticulous lamplights,
He drinks too deeply to glow from that,
He fills up the door.
His lifeless face is filled with the past,
With barking words that were on fire with anger,
And slowly over the years those flames baked the clay,
The features set, the habits set in.
Clay is softer than rock, but both are washed away by sea and weather over time.
A tint of green in his eyes.
You had almost forgotten it was there.
Sweet Melinda sinks beneath the water.
You remember her in sinuous movements, in the tilt of her head,
In the luxury flow of white-gold hair,
That twists and tumbles, waterfallesque over one shoulder,
Culminating at an angular hip,
Pale denim, a wide belt, a glorious oversized belt buckle.
Sweet Melinda coming up for air,
She licks the sugar from her lips,
She smiles at you as if she's never seen you before,
Or as if the sight and sound and smell of you,
Is like gold to her, and nothing could make her more pleased.
You know better. You shadow her smile.
You dip into the embrace that's edged with poison and still-unspilt secrets.
You hear the bear growl;
It vibrates in your veins,
A magnetic howl in the sound he makes,
Deep and throaty and full of old wounds.
This house has so many memories, it's littered with them,
And the bear is fully part of the house,
Flowing in its grain, imprinted on it, and it on him,
Their images fading into each other, melding and melting,
Proposing marriage.
I take thee, childhood home, to have and to hold onto;
Through poorer and ever less certain, in sickness, health, indifference, despair,
Until circumstances shake loose my grip.
"Long time, no see."
You have a need to bite your tongue.
"How are you, sis?"
"I'm good." You've brought quiche and raspberry tarts.
"I'll get you a beer," says the bear,
And he shuffles away into the past he'll never leave.
Picture credit/discredit: author's own work