Hunger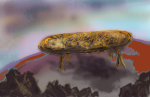 Tue, 14 Sep 2021
1 likes
You couldn't blame us. We couldn't help ourselves. Days and nights out in the desert, tramping through a wilderness of rocks and dirt, heat and sand, the shifting and blurring of colours against a horizon that never changed. Until blue and terracotta became one and the same, the sky fell into the ground. But no rain came. No breeze blew. Time trickled through us, all sharp edges and gravity.
And so. When we found the table. How could there have been any stopping us? We found strength in our legs, air in our lungs, which we thought had long been walked through, breathed through, used up. We ran to what seemed like our salvation.
And this table. It was laden. It bristled with a feast unrivalled. There were fresh fruits and roasted meats, custards, pies, tarts, delicacies of sugar and butter, honeycombs, hot loaves, corn cobs. There were cups already poured almost brimming with wine. It was like nothing any one of us had ever seen before. And yes, we fell on it like animals, we scrambled to the benches, reaching with both hands to seize whatever might be closest – what if it vanished? What if it wasn't real? The cruelest mirage.
And then we laughed. Because our bellies were filling, and the wine was sweet, and there was this chance that we might yet survive. The months of hunger that followed the disaster, the dislocation, the ugly sights we'd seen… but it felt as if these were washed away, half-forgotten, near-forgiven.
My cousin, Androse, raised a jeweled and silvered goblet. He toasted this strange good fortune.
We all cheered.
And I wondered. Who lays a table out here in the middle of nowhere? And for whom? Where does the food come from? Where are the kitchens? These beautiful smells of fresh, hot foods. But what if it smells more like sorcery?
And like that, the aromas changed. The smells of heated metal, of decay. This taste in my mouth that had been roasted beef, that was now more like ash.
My mother always told me this: the forewarnings are a kind of cheating. Men are not meant to know their future; they should never seek to divine their fate. Where I came from, such things were not legal. And if you should come across the future, unbidden, if the answers found you in dreams or visions, they were not to be touched, not to be embraced.
"Don't speak of what you see," my mother warned me.
And I never did.
But it seemed as if the feast was not a feast at all, but a mess of spiders and rotting corpses.
"Salvation!" my cousin raised his cup, then pressed it to his mouth to take a hearty sip.
But I could not.
And then the screaming started. A woman I knew as Malitha saw her reflection in the silver of her cup, she saw her eye beginning to melt. And as she saw this, we saw another woman whose hair was falling out in clumps, while another man's eyes fell into his hands, and a girl watched her belly distend and her legs bulge into clumpy balls below her knees.
I looked down. My hand was like a pincer – such as a crab or lobster might have – except that it was limp and flabby, becoming a cushioned, bulbous club at the end of my arm. I'd stopped being able to feel it.
The horizon offered a vision.
I flung myself off the bench and scrambled away into the rocks. I would have spoken, I would have tried, but I had no voice left. Only one of my arms could wave a warning at the others. But in the chaos, I was unheeded.
I could only watch as their bodies fell apart, the extremities failing, chests and bellies rounding and blooming, too big and messy for legs that could no longer hold them up. Enveloped in flesh; their heads sunken into enlarged, cushioned shoulders. They couldn't have moved. And I could only cower in the shadows, nursing one ruined arm, seeing the skin drip from my cheeks against the sand.
Figures slid in from the horizon. Moving fast. Part man, part horse, part spider. If we were hungry, they were hungrier; they swooped in on the illusion of a feast. But it wasn't the illusion they cared for; it was my neighbours, my family.
We were their food.
Picture credit/discredit: author's own work