Just Past Three in the Morning (3)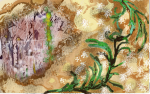 Thu, 28 Apr 2016
I got home a little bit before midday.
Mum and Dad had been arguing again. The silence in the house had that quality about it, that tension, that ceasefire trembling on the cusp of breaking. The silence I was used to.
They'd probably started arguing about my sister again, but by the end it might have moved on to anything. And here I was, returning from a night out in the middle of the day. I knew I should have called them.
"Where the hell...?" Mum was saying.
"Penny was in an accident."
That did the trick. They both liked Penny – nearly everyone who meets her feels that way – and their sullen stalemate, their new surge of anger at me, all froze in concern for my friend.
"She's okay," I said. "I mean, she'll be okay."
"What happened?"
"She was hit by a car."
"Oh." Mum's hands were on her cheeks. She blinked at me as if she wasn't really sure what I'd said.
"Look, it's not as bad as it sounds. She'll be out in a couple of days. But I had to stay with her, we all did." I put it in before one of them could mention it: "I would have called, just... we were all caught up in the middle of it all."
"Y.. yes. Penny's family?"
"Justin called them."
"Well, look, you see that you give her our love, all right?"
"Okay."
"I could bake her something, yeah? She likes those lemon slices, right?"
"I've been awake all night, Mum. I'm sure she'll like that."
#
I'd been awake all night. All the previous day. I'd gone past slightly drunk, through sober, sliding on into mildly hungover. Every part of me felt heavy. I was gravity's bitch. So sleep should have been a slam dunk. I could feel the half-light, the pillows, the blankets, all closing in on me, my brain fuzzy with expended emotion.
But I didn't sleep. I lay there picturing Penny in the narrow, Spartan bed, her bruises darkening, a trace of blood showing beneath the white bandage. And when I didn't picture her, I wondered what was happening with Shelley. I hadn't seen her since yesterday morning, hadn't seen a sign of her coming back home today, her bed had an untouched look about it. So trouble? Or there would be.
I dozed at times – not really sleeping, my head invaded by strings of thought that didn't make any sense, thoughts that bundled Penny up with Shelley, with my parents, with the birds lining a tree outside my window. Combinations which didn't belong, but I was too enmeshed in them to understand that. Then for a moment I would. Then the haze would roll back over me. And all I wanted was real, dark, unpopulated sleep.
Mum's voice: "When are you going to talk to her?"
"When am I?"
"Yes, you."
"Oh, yes, because it always has to be me doesn't it? Always has to be me doing all the heavy lifting around here. Always me."
"You're her father."
"You're her mother."
"I don't ask you for much-"
"Oh here we go!"
"What!?"
"You. Such a bloody martyr. Everything you do around here, while I'm just a big lump of nothing! Do you think I don't get tired of hearing that?"
Her voice was shrill: "Not tired enough to do anything about it!"
"What does that mean?"
"Well, here you are. Aren't you? You'll argue with me all day long, but if you have to say a word to your daughter – no, that's different. Do you know how many months ago it was since I asked you to fix that door?"
"Do you know how many times I've heard you nag about it since?"
"Three months."
"Three months of nagging."
"And all you had to do..."
"I'm going out."
"Again?"
"Yes, again."
"We're not done with this!"
The door slamming. The intensity of silence that followed it. Mum, clattering about in the kitchen, stopping once or twice to choke back an angry sob. The TV turned on, and I could guess she was going into the liquor cabinet for whiskey. Which leads to more fighting, which leads to more
drinking, which leads....
I slept at last. Somewhere in the midst of all that. And woke up after dark.
The TV was still on, still loud. Dad not home. Or Shelley.
I got dressed in the half-light and sent a text to Justin – whose shift it was: How is she?
Bored shitless. Bring a magazine or something when you come.
Gotcha.
Mum was sitting on the couch. She was still drinking, but too slowly to get drunk. She looked maudlin though, her eyes fixed on the screen, her face bent down in a frown of bitterness.
I stood behind her. "What's going on with Shelley?"
"She's out."
"Mum."
"Out. Like she tells me anything. She doesn't think I need to know."
"With Greg?"
"That boy." That boy – the name he seemed to go by in this house. "She wasn't as bad before she met him. That boy had better not show his face around here, I can tell you."
Some chance. "I'm going out to check on Penny."
Not listening: "That boy. She's turning into a right little bitch. Ever since he got into her head. That boy. He's behind it all."
"Okay. She's just... that age, she's got a few years to grow up."
Mum swung her head round, looking at me suddenly, an oddly feral light in her eyes. She looked mad. "Well, you're not making it any better are you?"
"Me, Mum?"
"Yes, you. Don't you think you're old enough to have moved out of the house by now?"
I was twenty-four.