Just Past Three in the Morning (7)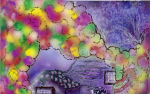 Mon, 02 May 2016
I watched that space. I watched her getting out of his car. She was wearing a short red dress, under a jaunty, lace trimmed black jacket. Her heels were tall and opal-silver, glossy and clearly brand new, a little chain of cut glass beads around her ankle. Yes, this was Penny trying to impress.
She came clattering along my garden path with a bottle of champagne in hand.
Norton followed her at a distance.
"Come on in," I said.
Penny pressed the bottle into my hand. She stood in the hallway, checking everything out. Her face seemed full of enthusiasm, but I wasn't quite sure yet what it was for.
"Hi," Norton said, looking a little lost.
"Make yourself at home. Pigsy said he'd be here, he'd bring some people. You won't be surrounded by strangers." And Penny clearly, clearly, is far from still being a stranger.
"House warming." He held up a bottle of whiskey.
"Did I miss a memo? 'Hey everybody, guess what, Heather's a big alcoholic?' Not that I'm complaining." I kept a firm hold of the whiskey. "Just that there's a bit of a collection building up..."
"Well, hey, if you need help with that..."
"It's going to be gone before dawn isn't it?"
"I think we'll give it our best shot." He was keeping an eye on Penny as she made a circle of the small lounge, looking into corners, looking up at the ceiling. "I told Randall he could come along as well, I hope you don't mind... he's okay when he's sober. Pigsy might bring a few more..." He gave a helpless shrug.
"It's cool."
A funny little smile twitched on his lips: "She's cool." A nod towards Penny.
"You're not the first guy ever to say that."
"Only because it's true."
Only because it's true. Well, he wasn't wrong. Penny was in full glitter-princess mode – and when she's like that she's charming the pants – sometimes literally – off any man in the vicinity. It was mostly just us friends here, and a few friends of friends, but she was still working it. I sometimes think flirtation and sexiness are just so ingrained in her, she performs without thinking, without knowing it. Swaying hips; wide, enchanted smile.
#
I'd told Pigsy to tell his uncle not to worry about this party. It was going to be a small affair, there'd be drinking, but the music wouldn't be all that loud, nothing would be damaged, nothing ruined or broken. And I'd been perfectly serious. Not that Uncle Josh had been worried: 'go right ahead, have you some fun; hey maybe I'll drop by and check it out.' I wasn't sure if he was serious about that bit – Pigsy had thought maybe, Pigsy had said: "don't worry about it, my uncle's cool."
Furnishings were still pretty scant. There was just all of us, lounging around on bean bags, each of us with bottles at our side, with a pack of cards, a few dice. Penny, Savannah, Randall getting up to dance every now and then, Norton drumming his fingers happily on his knees. We were playing 'Three-man' and 'Judge Not'. A game of Truth or Dare was getting warmed up.
Davey started. He levelled the first round at Norton: "Truth or dare."
"Dare." He met Davey dead in the eyes.
"Sure about that?"
"Always sure."
I thought: aren't we getting a bit old for this sort of thing? Or was it just me, ageing on my own, letting everybody else stay young and fun around me?
Davey said: "Fine. Let's see..."
"I have to live with these neighbours," I reminded him.
"Okay. No problem. How about you shave your chest hairs, here and now before company?"
"That all?"
"That's all."
Well, I wouldn't be using that razor to shave my legs anytime soon. I leaned back and watched him, soapy, half-dressed, dragging a little pink razor over his nipples. It reminded me of a scene from Pink Floyd's The Wall. Little drops of blood appearing, then blurring around his nipples. And Penny had lights in her eyes, laughing away.
"Eyebrows too." Davey pressed.
"No problem."
Norton was a happy performer. He made a little dance out of it, jiggling his smooth, wet belly around for us all to be amused by. There was a bit of a bulge there, but he was still mostly muscular, had a pretty good chest all in all, a little bit of a tan there. And helpful Davey: giving him an excuse to show off his physique.
Then Norton took his turn without hesitation. He fixed himself on Savannah.
"Dare," she responded.
"Quite sure?"
"Always."
"I want you to kiss Penny, properly, on the lips, tongue, the works. For at least ten seconds."
"And that's all?"
"That's all." His face was eager, and suddenly all the men's faces in the room were looking the same. Not quite salivating, but getting there. Go home, Pavlov, feed your dogs.
If you wanted embarrassment or hesitation: wrong girls. Penny sauntered over, she took Savannah's cheeks in her hands, she went for it. Yes, the works: tongue, open mouth, bodies up close. The guys loving it. Of course. Me, rolling my eyes, because they were all just so predictable.
Then the next one came at me, straight, like a bullet, from a skinny guy with big glasses, whose turn it wasn't. "Truth or Dare."
Since no-one spoke up for Savannah's turn to call, since everyone waited: "Okay, truth..." I think.
He asked me: "So, which do you love the most, your Mum or your Dad?"
What the hell kind of question, right?
But it was out there, it was on the table. And it did hit like a bullet – the whiskey helped it travel through flesh like it was air, and the tequila did its part. All the eyes in the room homing in on me. Totally sober, someone might have said, "nah, let that one go," might have whispered in his ear; but the night wasn't young any more – middle-aged at best.
I swallowed. "Well, I love them both." Sure, in this complicated way where love sometimes bordered on hate, and where love was blended so thoroughly with exasperation that the two things had the same colour. And here I was, just tipsy enough to consider the answer: "I think it's Dad. I think it's Dad, because Mum gives him such a hard time sometimes. She holds things so tight. She doesn't forgive him until he's declared himself in the wrong. And Dad's fun. He'd buy me beer down at the club after his games – back me up, Davey – even though I was ten. I'd pretend to like it, and he'd buy me chips with it, and I'd join in with some of the practice. He let me stay after they'd had a few, and the dirty jokes started coming out. Mum didn't approve."
Was that the crux of it? Dad, having always approved of me more – not loved me more, just less inclined to change me in any way?
Davey: "Yeah, drinking and dirty jokes. Way to go Uncle Geoff. Father of the year."
"Oh, you loved those days!"
"I was a boy. And I was twelve."
"What's the penis got to do with it?" And I had the other girls tacitly on my side.
"Oh, it just does." He was weighing up the room. They outnumbered us, but maybe not enough, he was ready to let that one subside.
Did I love Dad most? Did I? I don't think I did, and if I did, then I didn't see the whole picture.
Time makes idiots of everyone, right?
Savannah took up the mantle. Then Roger's friend Tommy, then his sister Enid. She looked as if she had a thing for Randall, she pointed at him gleefully.
"Dare." He was eager for his turn.
"You need to balance a kitchen knife on your nose."
"Already on it."
Unluckily, I'd bought a few knives earlier that day. Randall had no objection to rummaging through my drawers, or to lying down in the middle of us and dangling the handle right above the tip of his nose. He was laughing, and he couldn't quite make the two things meet. I took it off him before it could end in lacerations, blood, the missing tips of body parts.
"Don't make me guard my cutlery."
#
I caught Penny alone when I had the chance, dragged her onto the little back porch. "You and Norton."
"Maybe."
"Maybe?"
"We've had a few dates, that's all."
"Well?"
"What? You want his rating in bed?"
"No! Shit- no! Is it serious?"
"Not yet."
"Is it going to be?"
"Do I look like a wizened old gypsy with a crystal ball? Heather, we'll just let it play out how it's going to."
I couldn't help it: "And this is the first I've heard?"
"You've been busy with the flat and stuff. And it's early days, right? Who knows?"
"Okay then. Keep me posted or something."
She turned on her heel, turning judiciously – radiantly – over her shoulder. "Nine and a half by the way."
#
We sat out in the back garden, drinks in hand, watching the stars, determinedly certain that they were watching us back.
"You called it," I admitted to Davey.
"Oh?"
"Penny and Norton."
"That." He shrugged. "They seem to like each other."
"You think it'll work out?"
"Stranger things have happened. Not many... He doesn't seem that bad."
Rough around the edges, a showman, but probably harmless enough.
"Nice place, by the way."
"Thanks."
"And good call. I love Uncle Geoff and Aunt Maddy to pieces, but you so needed to move out of there."
And me, not even having known it until Mum knew it for me. The sting had come out of her words a bit now. She'd been right. There'd be too many years between those walls, beneath that roof. Well, for better or for worse, my wings were spread. I lay back in my grass, amongst my daisies and dandelions, avoiding my thistles, and just let the sky wash over me.