Justice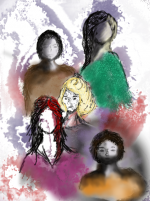 Sun, 03 Jun 2018
Jenny fell in love with Jimmy on her first day at school.
She didn't know there was such a thing as this, seeing this boy and feeling as if he was everything. That she just wanted to be wherever he was, doing whatever he was doing.
"Puppy love," her mother called it.
And: "She's a bit young to have a crush, isn't she?" her aunt suggested, her voice uncomfortable with the idea.
Jenny didn't understand all that. She just knew that Jimmy would meet her at the gate and they would walk into the playground together, swap pieces of their lunch, maybe play games together.
"But he's a boy."  Incredulous little girls seemed to imagine that Jimmy's head might explode, that he might grow fangs or horns.  Slugs and snails and puppy dog's tails: who knew what might come crawling out.
"Who cares about them?" she said."
Jimmy did.
Or was he just influenced by what went on around him with the rising and falling of every day?  Suddenly the other schoolboys were laughing and jeering at him, telling him what a pansy he was, or making kissing noises on the backs of their hands.
"Go away," he told her, "I don't like you.  You're embarrassing me."
#
Well, Jimmy grew up.
He didn't think about Jenny much.  She'd moved away with her family a few years after their brief friendship, and he'd met other kids, others girls.  He shared his first kiss with some other girl; his first date with a freckly girl whose name he had to think to recall: with Enid?  Erin?  Lena?  He gave his virginity to a girl he knew even less well, a near-stranger encountered at a party, a friend of a friend of a friend.  But she wanted to strike new ground as much as he did, explore this new territory; he wanted to give it a name and a face, take his place amongst those who'd done that deed, who insisted it had magicked them in to grown men.
It didn't.
But the box was ticked.  He felt as if he could stand amongst a crowd of other boys and hold his head up.  He could talk about such things with an air of authority, with enough first-hand knowledge that he no longer had to fear he might give away his innocence with an untutored, ignorant comment.
So, in that sense, he felt relief from it most of all.  The passing of a test of sorts.  He couldn't recall any romance exactly: some excitement, some awkwardness, a face he'd probably recognise if he passed her on street, but a face he wasn't sure he'd know what to say to should that happen.
But then he met Tara.  And everything changed.
He'd never know that Jenny – long forgotten – could have related to what he was feeling now.  It would never have occurred to him to think of it.  Tara was a friend of a friend too.  Andrew Hearmont had come back from university for the summer and about six of his blossoming, higher-educated friends had come with him.  The Hearmonts had a big house, and there was an impressive, cavernous basement.  Andrew had explained to his parents that they wouldn't be any trouble, they'd all sleep down there together.  They'd buy their own food, they wouldn't use much hot water.  That part of the house was like its own flat anyway.  And all of them, for varying reasons, had nowhere else to go for the summer.
Jimmy didn't hear the details of what Andrew's parents had to say about that.  The gist sounded adequately fiery.  But they did let them stay.  And Jimmy did meet Tara.
Tara: she was everything.  She was Snow-White crossed with Cinderella crossed with Helen of Troy.  She was dark and pale, red-lipped and green eyed, she was tall and fluid and her hair flowed down over her shoulders like viscous ink.
He was in love.
And Tara, she let him touch her.  She lay beside him and she whispered in his ear.  She taught him things about love that he could never have learnt another way.  He dreamed big.  He dreamed for two.  He thought he was standing on top of the world.
What he didn't know was that Tara gave her lessons to more than just him.  Her class was taught in bedrooms and back alleys, for handsome strangers, exciting bad-boys, stumbling virgins whose awe was what turned her on.  She was on a journey – such as she saw it – a search for some kind of treasure that eluded her every time.  A search that went on and on because, really, what else was there to life?  What else was there to hope for except the finding of this strange, glowing thing that would somehow make every kind of pain feel better, softer, further away.
Devastated: Jimmy wanted nothing more from life than the solitude of his own room.  He was a rock and an island, and he perfected that role.  He strived to become needless, hollowed out of all will and desire.  He worked and he read and he studied – disciplined and cushioned in an iron-clad routine.
Andrew Hearmont was the one not to give up on him.  "Well, look, I brought her into your life.  I had no idea what she was really like."
"She was perfect."
"If she was she'd have been all yours.  She was selfish."  Although he wondered: her story?  What crushing needs drove her to these acts that never brought her real happiness?  She was desperate, wasn't she, in truth?  Doing battle with her pain just like everybody else.  But he didn't say as much to Jimmy.
"It doesn't matter, does it?  She's gone anyway.  I don't know what to do."
"No?  Then I'll tell you.  Come on out with me.  There's a barbecue down at the beach tonight.  Should be a laugh at least."
"I don't want another girl."
"Then don't hook up with one.  Just come out."
He wavered.  He thought about it.  "Maybe for a bit."  He could measure that moment, later in the life, as the one when he started living again.
#
Andrew often felt as if he was missing something.  He was content with his life, he had everything he needed, but there was always something out of reach.
He remembered a night when he stumbled across a girl in the rain.  She'd been drunk and crying, beating her fists against the ground.  There were grazes on her knuckles and along the edges of her hands, rivulets of blood mixing into the puddles.
A flash of lightning painted the sky.
A roll of thunder followed it long and deep-throated soon after.
Andrew dropped to a crouch in front of her.  "Hey.  What's going on?  What's up?"
"He's shit!" she yelled, "He's a piece of shit!  I hate him!"
"Whoever he is, he can't be worth this. Can he?"
"You don't understand!"
"I don't need to.  But I can't leave you here either."
"I don't care."
"But I do.  Stand up, come on."
She flinched away.
"I won't hurt you."
She slashed at him with her fingernails.  "That's what he said!  That's what he told me!"
He didn't know how much he understood.  He hoped not what he thought he did.  "We'll get a taxi.  We'll go somewhere.  It'll be all right."
He never knew what happened to her, or what her name had been.  He waited with her at the hospital, he whispered his suspicions, watched until a nurse came to take her away.  Walked back to his car in the rain.  But the encounter stayed with him, a strange sense of having been alive for the first time in ages.  And when he saw the ad in the paper for volunteers needed in Africa to help abused, disadvantaged women, he realised that there was a calling there, a piece of himself that he'd been missing all this time.
Under the hot sun, an oddly verdant landscape, he discovered the best and worst in people.  He met and married Ursula – a doctor – and the woman of his dreams.  But he never forgot another woman: Meredith.
There was a reason he'd never given up on Jimmy.  Meredith was it.  His memory of what it had been like to love without boundaries, to go everywhere with one girl, to share all his secrets, and then one day come home and find not just her gone, but most of his stuff, to find an apartment emptied out, and not even a note.  To think for a while that something had happened to her, to accept only gradually and unwillingly that there was another explanation, one that was pressed on him, day after day, until he couldn't filter it out anymore.
And so, Meredith shaped him, for better or worse.
#
Meredith didn't regret exactly what she'd done to Andrew.  There were times when she barely remembered it.  The money she'd gotten from what she took from the apartment was long gone, soaked up in some moments of destructive, expensive glory, injected into her knuckles so that marks would be less visible.
She lived for the cycle of highs and lows.  For the glory when she floated on fizzing, chemical air; for the punishing hours when she fell from those heights and the pain was a fog that felt like broken bones.  Pain and pleasure that felt at last real, that gave her a sense that she was not already dead.  She wrapped herself in this intensity – barbed and bloodletting, because without it there was just the grey sea, the invisible horizons, the unbearable absence of any hope of better, brighter, truer.
She saw a picture once of Andrew in a magazine article.  She barely recognised his face, but she recognised a face in the picture beside him.  Wasn't that Stephanie, her sister?  It'd been so many years since there'd been any contact at all.  Since their mutual parents had told Meredith: enough, there's no good in you.  Get out of here and don't come back.
There was a number in Meredith's phone, amongst varying old contacts.  She sat staring at in for hours before she finally found the courage to dial the number.
"Hello"
She found she couldn't open her mouth, she couldn't summon up any words.  Maybe there was just nothing to say.
"Hello?"
She found tears leaking out of her eyes, she saw her hand shaking.  She couldn't do this.
"Hello… Wait.  Is this Meredith?"
This bit took all her courage: "Yes."
"Meredith, where are you?"
"I just… I don't know…"
"Are you hurt?"
All the time.  And: "No."
"Listen.  We need to talk.  We need to talk all night.  But not like this.  Tell me where you are, I'm going to come and get you."
#
On that night, Stephanie drove for four hours to find her sister.  She was afraid that she'd get there and find her gone, or worse: dead.  She conjured up horror stories in her mind of what her little sister might be like now, what carnage her life might have inflicted upon her.  And in a way it was just as well she did, because it softened the blow of seeing the damage first hand.  So hard to believe the little girl from the photos, the neat little thing she'd grown up playing with had become this angular, emaciated nightmare.  She was scarred and starved, trying to hide it behind make up and loose clothes, but there was no disguising the extent of her addictions, or the slow-killing effects of them.
Their hug was long and harrowing, over-saturated with too many emotions.
"We're going to make this right," she promised Meredith.  "You and me, between us, we're going to make this right again."
"There is no right," Meredith sobbed.  "It's too late.  It's too late.  Go away, I only called you by accident."
"No, you didn't.  You know you didn't."
"You hate me."
"I don't.  I never did.  You and me, we'll fix it all up.  You just have to trust me, once more, like you did when you were little."
When they were little: Meredith swinging high at the playground, leaping off the swing and into Stephanie's waiting arms.  The weight of her sister barrelling into her would be nearly enough to knock her off her feet, but she stumbled and held her ground, and never let Meredith fall.
Not then.  Not now.
So, she found her a place in rehab.  She found a flat for them both.  She helped Meredith find a job.  When she called Andrew Hearmont and asked him for help, she was relieved that he agreed, that he was willing to talk with Meredith, let her apologise, tell her she was forgiven, that he only wanted the best for her.  If Andrew can forgive you, you can forgive yourself.  She thanked him for doing this, she told him: "I heard about you and Ursula.  Congratulations.  You're perfect for each other."
It took months of phone calls to get her parents onto the forgiveness train.  But eventually she did.  And then on to the actual train, so they could come down and see Meredith, see what progress she was making.  So the four of them could heal a little bit, and become a family again.
Meredith went in and out of rehab.  She had good times and bad.  Stephanie had done enough of her homework to know that this was to be expected, that there were going to be storms, and they were all just going to have to weather them.  Fine. She could.
As she waited in the foyer to visit her sister, a stranger asked her if she knew where the vending machines were.
"Just down the hall, I'll show you."
"Thanks," he said, "Hey, which of these chocolates are good."
She considered.  "These ones.  The fruit and nuts."
"You come here a lot, huh?"
"My sister."
"It's my first time.  My mother."
"Well, it's nice to meet you," she said, "I'm Stephanie."
There was a flicker in his eyes, a curiosity and warmth behind his smile.  He held his hand out: "I'm Malcolm.  I hope I'll run into you again sometime."
She took a chance.  "Yeah, you could increase your odds if you called this number."  She folded the piece of paper and pressed it into his palm.
Picture credit/discredit:  author's own work