They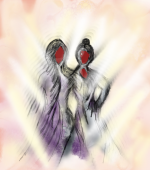 Thu, 12 Apr 2018
They glitter in the night,
Constructed out of stardust.
Theirs is a different world.
A world where the buses don't come late,
The washing machine hasn't broken down again;
Where the wine comes gilded, by the bottle.
A world of multi-colours;
The tears they have to cry turn into diamonds.
Picture credit/discredit: author's own work