The Tree of Many Fruits (Part 1 of 2)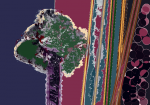 Tue, 12 Feb 2019
I planted this tree in my garden. It was an orphan tree, a lone survivor of the storms that kept us inside for nearly a week.  And then, when the storms had died down, I went out into the garden to salvage what I could.  The skies were still dragon-purple, and the clouds were still long, low, pointed down on us.  The garden had been soaked and battered, many of the crops damaged. I saw the wheat flattened, and the beans shredded, the largest of the pumpkins split open and bleeding its seeds. A crop to mourn for, and what with the winter on its way.
Haldif, my wife, shook her head at the carnage. She said, "Salvage what you can. What we can't eat you can sell at market, at least we might meet the rent."
I kissed her and rigged up the cart.  We loaded pumpkins and carrots, soaked turnips, ears of corn, and she ran her fingers over the back of my shoulders, "You be careful out there."
She didn't have to tell me. I'm close to sixty years old – a venerable age in this hard country – and I've seen these skies before. I don't leave the village without looking up, without scouring the clouds for danger. On the hilltop I scanned again, and pierced the forest with my eyes, knowing that there will be wolves roaming – the mundane and the enspelled. Three weeks ago, Onbrend Firesight swore to all who'd listen that he'd seen the Pack itself, all crouched amongst the trees, and he'd thought he'd never reach his home and see his wife and children again.
There was no sign out there of the Pack, but the roads had the colour of dragons about them. The water that pooled there was gold and pink, striated with a deep peach, with soft touches of crimson. Such colours stained the roads. If I know my dragons at all, then I knew that a Great Hooded Sunrise Dragon had passed that way recently.
No dragons were seen in the heart of the storm, but at least one was felt. And you always know the feel of a dragon, the tingling on your skin, the way the fireplaces crackle and the flames leap. The sensation of everything, everywhere being a little alive – some tiny lifeforce enacted in the walls, given this gift of existence, only to have it fade and fail just minutes after its birth. A cruel thing, isn't it? To tease the darkness with light and let it watch itself slowly extinguish.
Ah, but the tree.
Well, I found this tree heading back from market.  It was a tiny thing, torn up out of its roots by the storm, and it was dying in a ditch there. A strange little character, with soft, triangular leaves, a shade of green that doesn't normally grow in these parts. And most strange of all, the way it seemed to cry out to me – not in sounds, but in substance, as if it reached through the air and entangled with my mind. It seemed to me as pitiful as a kitten, as bedraggled, and so I wrapped it in my cloak and carried it home.
Haldif looked at it.  She knows all manner of trees and herbs. She shook her head, not knowing this one.  She reached above the fireplace to take down an ancient old book. Now, I don't read so much as a letter, and nor does Haldif, and nor her grandmother, but somebody back in the ages did, an ancestor of hers, and that scholarly woman's book is an heirloom, a treasure. And it is very well illustrated. So, we sat in front of the fire that night and while I carved idly in wood, Haldif searched the pages, and reported to me at last that nothing that looked like this little tree could be found there.
"Well," I said to her, "we have to plant it then.  See what it'll grow."
"I suppose we might try."
"Well, it's a hardy thing, to survive the storm."
"Do you think its dragon-touched?"
The colours gave no such indication, but I couldn't rule it out. "Maybe so, we can only find out by planting.
#
My son, Johesh, came by the next day as I was planting it.
He stopped to look at me. He said, "What's this you got here?"
"A tree, unless your eyes are failing you."
"Old man. You'd be one to talk. It's a strange tree, isn't it?"
"So it is. And I'm planting it to see what grows."
Johesh, looked it up and down: "It's a pitiful thing, I'm not sure it will grow."
#
But it did. And quickly.
My daughter Kasilla came to visit a few days later.  She was the youngest of a brood numbering ten.  Of ten, seven still lived, and of seven, two had remained in the village.  The other girls had married away, and of the boys, two had settled on hopes of a fortune amongst the city streets of Argonaed, and the third had gone even further afield, following the army, but as poet not soldier, recording the mayhem, recording the small points of beauty that might exist in spite of it.  He'd appealed to a Law-Sayer one Gathering to teach him his letters, and he'd put Haldif's heirloom book to use in daily practice.  After that he'd taken up with the army, selling herbalism and composing ballads.
And so. Kasilla. Johesh. These and their children what remained of my family.
And Kasilla, with fresh-baked buns in her apron pocket, came hurrying to meet me in the garden. She noticed the tree as well. "They're talking all over the town about you and your tree Papa, every second word is about it, and how quick it's grown, and is it going to be cursed or blessed or neither?"
I showed her the tree, steady and thick-leaved – there were soft, downy buds forming already – and asked her, "Well, what do you think?"
She considered, "Well, it doesn't look cursed, and nor is it dragon-coloured. Maybe it'll be safe enough."
#
And my tree flowered.
And these were such beautiful, multi-coloured flowers. There were big and soft, clotted with petals, and the petals were a rainbow of colours. Haldif and I stood in the garden and watched it with soaring hearts. This was a small wonder I'd saved from the side of the road. "Dragon-touched, indeed," Haldif proclaimed, "there's no other way it would have such colours as those."
Young men came to the house, asking if they might pick a flower to give to their girl. I could never begrudge it, since I was a man long and well married. The men would bring small gifts in exchange: a few coppers, a knife, a cheese, a fresh-netted fish.
We ate well.  And in the firelight, I took one kept-aside flower, and I wound it into Haldif's hair. "You're still the most beautiful girl in this village."
She touched my lips with her fat, silken fingers: "And you, my love, are still the most extravagant liar."
#
Though the winter was nearly upon us my tree still bore fruit.
That might be thought remarkable in itself, but it was the fruit that had all the tongues wagging from one end of the village to the next.
"There's every fruit in the world on Grusfin Odleson's tree."
That was an exaggeration; but a medley of fruits grew together such as nature could never produce alone.  There were oranges and peaches, lemons, apples, pears, pomegranates, passionfruit, and even little clusters of strawberries that clung along the branches. It was such as nobody had ever seen. And the fruits were fine and big, in bright, tempting colours.
They ripened quickly, and once they had I called Haldif out into the garden to take her pick of them.
She chose a big orange.
"Go ahead," I was eager to see what these were like.
Haldif ripped the orange open and sank her face into the sweet-smelling juices.
"Well?" I said.
She grinned at me: "This is delicious"
So I twisted a peach from its branch and took a bite. It was sweet and juicy, loaded with flavour. A quality fruit. I asked Haldif, "Do you think it will cause me to go grow wings?"
Haldif considered: "You'd suit wings."
"And I would fly you to the moon with them if I had them."
"You. Full of charm. Perhaps your manhood will double in size, become muscular and flexible, as if it were another arm."
I reached for her – old man of sixty or not – "Perhaps it has already done so. You had better come inside and test it to be sure."
#
It took no time at all for the villagers to hear about my magic tree. The snows were coming and some of my neighbours did not have a full larder to carry them through the season. It would have been an uncivilised thing to do to deny them a fair share here of what I had.  And so, when family by family, they came, I let them pick from the tree whatsoever they wanted. And I saw that more fruit grew.  There were apricots now too, and some fruits I didn't know, which a well-travelled neighbour told me were called mangoes. They had a sharp, sweet, strange taste that sat oddly on my tongue once I'd eaten.
My son, Johesh, had a fine, blonde wife. A cottager's daughter, maybe, but there was something of the lady in her. Her name was Elswiddith, and she baked a pie for us from the apples, and from some grapes that had started to grow amongst the other fruits. She and Johesh, with their three children, came to the house and ate with us, before the fire. We had oatcakes, along with the pie, and we took whole apples, pears, peaches and we rolled them in honey before roasting them over the fire. And we gorged ourselves on these.
"That was a lucky find indeed, out there on the road." Johesh remarked over a mouthful of sweet, hot apple.
"I felt like it was calling to me."
"Do you suppose there might be more?"
"I saw just one."
"But there might be others. I'm minded to go out and look."
"Well, the roads can be hazardous, you should have a care."
"The skies are clear," he said, smiling.
His smile troubled me, but I only smiled back.  The skies were, after all, indeed, clear.
#
I took some of the fruit into Jostwaithe a couple of weeks later. And why not, since no matter how much we ate, nor how much we gave away, the tree would always provide us with more? I found myself a place in the market, and barely had to call out – the sight and scent of these fruits attracted a crowd. Before the sun was all the way high in the sky, I had sold all I had, and I returned home well before sunset with a belly full of roast beef and a purse clinking with copper coins.
#
Word spread.
A crier came to the village, waving a flag above his head, and he rang a bell to call our attention. A lord was coming to the village. A great lord was honouring us with his presence. Make ready for him. Dress well. Bake pies. Make honey cakes. A bed must be found, or would he sleep in a tent more splendid than any of our rude little huts?
The crier gave out silver coins and told recipients to spread the word, to go about all the fields and houses letting every ear hear the news.
"It is Lord Cumberwell of the Eastlands, that's who it is."
"And how would you know, Lossard Wickerwack?"
"It's said all over the village, it is."
"And what would the likes of that want with us?"
Well, I had no doubt. And nor did my family. Kasilla came at a gallop, and her husband, Redro Heathwarden, came at her heels. And Johesh, dragging Elswiddith, not far behind them.
"It's your tree he wants, Papa. That's what he's here for."
"To try the fruit or uproot it?"
"Well, who can say?"
"By the swordspoint, or with silver, or only velvet words?"
"I know nothing but what the gossip says, and it only says he comes."
Haldif was flustered. She went into the chest for our best clothes, she washed her hair and shaved me, and she fretted about the house, the stamped earth beneath rushes, the hay-bales that added to the complement of simple wooden chairs, the box bed, and the worn stretcher-beds, which were all that could be offered to sleep upon.  "We are not fit for a lord, husband. We're not even close."
"He will have to suffice. Or he will have to sleep elsewhere."
"And his retinue…"
"Well, they will have to do the same."
#
In fact, he did make his own arrangements: a grand marquee was erected on the common, the outside coated in bright silk, the inside with furs; and furs sewn together in patchwork covered the ground. Awnings were set up, and fires dug. Fine men in fine clothes were seen walking around, flashing silver in exchange for sheep and hogs to slaughter. Barrels of wine were rolled through the shy winter grass.
Aplenty of people came down there to see for themselves. Children hid in the bushes nearby with their mouths agape, and knees folded up against their chests.
"It is Lord Cumberwell.  Look at his big red beard."
"That's him all right. I seen him once in Argonaed."
"That's he for sure."
And when he'd been in the village a full day, he came to visit me.  I'd been in my best clothes since the party had ridden into town, and Haldif wore her best dress, her hair all braided up and covered. She had honey-cakes baked and new ale brewed, and she'd practiced the art of the curtsey for this moment. I bowed, myself – whatever you might think of the rights or wrongs of lordship, its well known that such men are trained in their swords, and travel with men likewise trained.
His crier informed me, "He is here to see the tree."
Of course. It would be my honour to show him.
Lord Cumberwell inspected the tree, he paced around in, stroking his beard. He didn't ask my permission to taste from the tree, he just selected a fruit – a white one I knew no name for – and bit into it, juices flying. "I am impressed," he announced, "is this dragon-sourced?"
"I found in on the road, after a storm. A Hooded Sunrise passed overhead while it raged. On the road, the next day, I found the sapling, and it grew into this here."
"Well, I must have it."
I waited. Chest tight.
"I must have it," he said, presenting me with a velvet trimmed purse.
I opened it slowly, and the sun glinted on gold.
Picture credit/discredit: author's own work