WebWorld (2.4)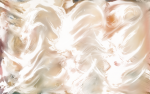 Tue, 27 Jul 2021
We walked through unmitigated white. It was thick and everywhere. The town pool would be filled and bursting with it, ruptured and ruined. This ski-slope we walked down was what had once been a main street. It was thick and spongy, almost like a trampoline, a fair bit like moss. And hills of smothered buildings lined it like cliff-faces. Trees had been engulfed and murdered, standing petrified, their shape preserved and beautiful - but as shrouded, reaching corpses.
"It fucked this place so bad," Zara said, half to herself. Then she looked at me: "Sorry."
We had a firm grip on each other's hand, and the other hand rested on the hilt of a knife or gifted gun. I had no experience using any such thing, but I told myself that if it came to it: point and click, just point, and click.
It was a bit of a guessing game being sure where we were going, and in the end, I brushed the gum off a road sign with a gloved and wrapped-in-sleeve hand. I saw what I expected and feared: Lulaton Street. "This is it."
It was a small side street diverting off the main drag, sloping gently down to intersect with another small, cottage-lined street. Our place had been halfway down. But the landscape was alien. The gum had gone to town on us. It was wrapped around everything, hard and ropey, knotty, texturous. It looked to me like an army of umbilical cords embracing to death what humanity had stamped upon nature, embracing nature to death next. There were big puffballs sprouting on what had been roofs. And worse, there were flower-like structures where the puffballs had burst open. Something came out of those. And I looked at the ones that were still intact, many of them smeared with colour, some of them suggesting a flicker of movement. Cut them open. Slice them up. God only knows that I wanted to. But there was the realisation that we might not be able to take what came out. And Zara was right there with me, and no matter how much I might yell at her to "run!" and "save yourself!" there was no way in hell she was going to do it. But they're nearly ready to pop – that's what they looked like, pregnant and overdue.
We stood in front of the house. It was coated, but I still knew it. I could trace where trees and letterbox and Dad's little park-style bench had all been. I could picture doors and windows even if they were no longer visible. I pulled the gun all the way out of my waistband as we approached the front door. I reached for the lump that represented the handle and turned it. It was slippery and clingy at the same time, and my hand slid around it, gaining no purchase. I only put the gun back in my waistband reluctantly so that I could wrestle with both hands. When it didn't work, I started in on the gum, grabbing it with both hands and tearing it away. The stuff reacted. I could feel it trying to get a grip on me at the same time as I was trying to get a grip on it. I could see it seething, the way a ripple moved through the whole fabric of it, like a shudder or a breath; and the ropey bits stretched out at my wrists. They moved as if they were slow snakes.
Zara, behind me, screamed my name.
No! Fuck it. We're going to go in. We're getting in there. I had probably meant to say that out loud, and I don't know why no words came out. Or maybe they did, and I didn't hear my own voice above my heartbeat and my array of awful thoughts.
Then Zara, grabbing at my arms, pulling me back. "Nate!"
I spun on her. "What?"
She turned my head around, grabbing me by the hair. She wasn't in a gentle mood. And what she pointed my eyes at was the way the whole area around the door had come to something like life. Or not life exactly, but there was movement in it, all the ropey bits throbbing like veins, a few of them writhing like a handful of worms. The gum on the door seeming to constrict, to clump in a magnetic, elastic sort of a way against the bleached paint.
"It's fighting back," she told me.
"Well, it's not keeping me out."
"Fine. Not with your hands though." And she started marching forward.
"What are you doing?"
"I'll use the knife."
"I'll do it."
"I got this."
There's times when you argue with your girlfriend and there are times when you don't. I was surprised that this moment fell into the latter category. But I stood with the gun drawn, watching her slice the door clear, using a kitchen knife like a machete. I could see the shiver of reacting gum, could see it burgeoning around her: I could see why she'd been shouting at me and why she'd pulled me back.
Gum coalesced into round balls at her feet.
"Be careful…"
"I got this."
I kept the gun aimed at those little round shits at her feet. Just think about rolling or opening up you little alien assholes.
The door was locked. But I moved forward and gave it a hard kick, sending it vibrating open on its hinges. If you think that makes me sound vaguely impressive, or as if I know how to door-kick my way into a building, well think again: it's just that that door was mush, its hinges were corroded, it had no strength in it. The house must be as bad. And so we might end up with the whole thing falling down on top of us. But I still had to go in, I had to know, and if I had to, Zara had to. And so I'd gotten her into this again, into more danger, and there's was nothing I was honestly willing to do about it.
And the house. It was like being underwater in a shipwreck. Or at least it was like what that looks like when it's dramatized on TV. I felt like we were deep-sea diving. The rooms were eerily quiet, they were eerily familiar. I was walking through my old hallway, my old lounge, my old dining room, into my old kitchen, through my childhood, finding so much undisturbed, so much still in tune with the way it had been. The gum flowed like lightning, the way it seemed to have jumped to the shell of the house, leaving the rooms darkened but barely touched. I'd seen pictures of other places where the gum had filled the empty space of a house like whipped cream, spilling out orifices; I don't know why it grew differently there than it did here.
It took me a few minutes to dare to use my voice: "Dad… Are you here… are you in here….?
He could have survived. It wasn't impossible. The air had a metallic, ugly taste to it, but I wasn't suffocating, I was breathing. And I'm sure Dad would have stocked up on food. Big pantry. We hadn't starved in Burndale, so why should Dad here?
"Hello… is there anyone…?"
It wasn't a small house, but it wasn't that large either. I felt as if my voice should carry – it had a soft, stalking echo, just a fraction of a second off beat. If there was someone in the house, they'd have heard it. And Dad – if Dad was the someone – why wouldn't he have responded? What reason could he have had for not answering me?
Room by room.
Always empty, always preserved. But no sign of anyone living or dead.
Would it have been better or worse to find a body? Would that closure have sawed me right in half?
"I'm sorry," Zara said.
#
It was better in the open air. Less like being in the belly of a beast. There was sky overhead. I orientated myself, and we started moving forward. It wasn't a search pattern exactly, wasn't organised exactly, but I followed the streets I knew, and we searched. We searched the crap out of that little town. We made our way through the streets to the town hall. We couldn't fight our way in, it was solid-grown with gum. The movie theatre, coated but empty. We found a few bones, blood still dried on them.
"They might not be human."
There wasn't enough to tell. I imagined we were walking on a gravesite, that the gum stretching over the streets hid a massacre. Maybe a massacre that had been melted into the gum itself, feeding it. I pictured a flame-thrower: sure it would get out of hand; blow-back and forest fires and death where there was still life left to take…
When the hell is somebody just going to drop a bomb?
Zara caught my arm.
"What?"
She gestured at the sunset.
"Fuck."
"If there's anything still here…"
"It'll come out at night. Check." We'd searched the supermarket, we'd walked into shops and houses, we'd knelt in front of a bursting-bulging town pool. We'd taken a bottle of whiskey from the pub, trying not to see these ugly lumps and their eviscerated cousins. Not a human. No reason to think this stuff has coiled around and eaten or transformed a human. Really no need at all.
"We can't do any more now."
I gazed down the glacier main road.
"Nate."
"I know. I get it."
"Please let's go."
"All right. Shit. I get it."
I vaguely remembered telling Zara that I was going to try and keep it together. And I was trying. But my breath was coming out hard and rough, beating up on my lungs and bruising my throat on its way out into the open. "I'm sorry," I managed, while she massaged the back of my shoulders with her stern, welcome fingers.
"I'll tell you what we used to do. We used to go out to the stream sometimes and set nets to pretend to catch eels. But we didn't even try, we were just lying around in the grass and smoking pot and talking shit. Maybe we shot a few cans with bb guns. Then in February the gypsy carnival used to show up. Same one we get in Burndale in March. Right? It was a big deal here though. Everybody went. And all the girls would end up walking around in all those tie-dyed; beaded fashions the chick with the tattoos was selling. We were walking around with candy floss on sticks like flowers, little toffee-apple sceptres. And there was just literally nobody who wasn't there."
"It sounds amazing."
I'm not sure if she meant it or not. Her fingers dug into my shoulder blades, finding the empty, taut places.
"I'm good to go," I said.
"Okay, let me drive for a bit."
I didn't argue. This was still the time not to be arguing with your girlfriend.
Picture credit/discredit: author's own work.