WebWorld (3.3)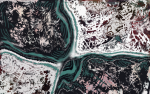 Wed, 04 Aug 2021
"I'm okay," Tamsin insisted in her quiet, implacable way.
"Well, you've been through some shit."
"You guys haven't?"
Touché.
Zara put a hand softly over hers. "Just if… if there's anything. You can talk to us. Or just me. Or I guess just Nate if you want. You don't have to go all stoic and act like nothing happened."
She told her story. Because that's what you do in situations like this. Or it's what you do in them in the movies, while a videoscape of your ordeal plays behind your voice. And we told ours, since that was only fair.
Derek had been a little over two years older than her. He had been her boyfriend, though the relationship had only been a few months old when the apocalypse had come sailing on in. It was more or less chance that the two of them had even ended up weathering it together.
"We were off to have sex," is how she put it.
And I could really only think to say, "oh," in response to that.
"Well we were. I mean we'd started dating. And he…" she took a breath; she took what I think was a moment to compose herself. "He was nice. He did all this weird stuff like opening the door for me, and we went out and he decided he had to escort me to my door like the bogeyman was going to get me or something.
"He was… kind. Um. Thoughtful.
"He wanted to take me away with him. Up to this little resort-type place. By the sea. Darlingford Cove, I think it was. We were going away together. I figured… the obvious. I figured we'd consummate it." She paused as if she was waiting for us to ask her if she had or not. When she saw neither one of us would, she shrugged that off. "We woke up that morning, and I thought it'd been snowing. I looked out the window, and I thought there was snow on the ground. Right down to the beach. It was only when we went out there and walked on it that we knew it was something different. Sticky. You know. The way it is.
"But then we started hearing things on the news. We started to see what it was like everywhere else. There was a big gathering of us in the bar. The manager of the resort was talking like we needed to prepare for Armageddon. He'd been reading some of the stories that were coming out of other countries. He had… this look in his eye."
"Like he'd been waiting for this all his life?" I said.
"Yeah, like that."
"I know the type." I think I emptied that gun into his face.
"Some people thought they should leave right away. A lot of people did. But me and Derek, we talked, we decided to stay. We called our families, they're both back home in the city. Derek's uncle was in Auckland. He was talking about things being a bit crazy, some looting and stuff going on. So we stayed.
"But then things got weird. The manager. He started getting paranoid. He had us all on rationed food, very strict. And he marked bottles, he weighed containers. He was convinced there was somebody stealing food. Nobody came forward, so he reduced all the rations. Then reduced them some more. There were these guys there who were talking about jumping him and taking over distributing the food. This other guy, he went up to Derek, and said it was time to leave, we should ambush that guy – the manager, Mr… I can't remember what. We should cut his throat and load up a truck and get out of there.
"Derek said we needed to run. Before it all got bloody. Because it would. We knew it would. Someone was going to kill someone. We didn't dare steal food; we just packed our bags and went. I thought Mr… something… was going to stop us. Or threaten us or something. But nobody did. He just said we were off out there to die, and there'd be more for the rest of them. But he looked scared. I think he must be dead by now."
It was the way she said all this, so almost-deadpan, as if she were recounting something inconsequential, as if she were reading numbers off a sheet of paper or something.
"What happened next?" Zara prompted.
"We drove for a couple of hours, along the coast road. But then we hit a spot where it was impassable, so we switched tactics and went inland. That was better. And we found a camping ground. It was occupied. The people there were running out of food. They were nice, but they didn't have anything. We heard some people had gone bush, looking for a tramping hut. Someone else said there were some holiday homes along this dirt road. Derek said we should go that way."
"Derek said a lot," Zara muttered.
Me and Tamsin both glanced at her, same look on our faces. I think, anyway. Tamsin's expression was a mix of surprise and disapproval.
"Sorry. Just… saying. He was always deciding."
"He was like that. He was decisive. He thought… he was protecting me."
"He was," I suggested, a warning glance at Zara.
"Maybe he was. You went where he said?"
"Yeah. And we found a couple of places. Isolated – like. So we camped out there. There was some tinned food and all that in the cupboards. We tried to hunt and fish, but we didn't know how to, and there didn't seem too much up that way to catch. We ate a couple of dead pigeons at one point. They tasted funny. They made us sick. I think maybe they ate something bad. Maybe the stuff."
"Gum?"
"Yeah. Or something. My head was swimming. I couldn't stand up straight. My tongue got all blistered. Derek too. Sometime later, the food ran out.
"So we moved on. We found another cottage, there was nothing in it. We started heading down some little sideroads. We… I don't know. We stopped in a few abandoned farmhouses. They were already looted. The animals were all dead and run away. We might find a few things here and there. A few muesli bars in glove boxes and all that. Derek knew how to siphon petrol out of cars."
"Handy," I murmured.
"He was… smart. He'd been around a bit or something. Because he seemed to have some idea what he was doing. What to do and all that. We just kept moving. We didn't know what else to do. The world just kept ending." She blinked for a moment, as if a tear or a shudder might threaten her composure. "Sometimes… sometimes I thought we should just stop and give up. I was hungry and tired. I suppose that's all it was.
"We saw helicopters once. We got up on the roof of the car and waved our arms at them, but they didn't stop."
"We saw them too. They came to the cities and towns, I guess. But they were mobbed, so they started doing airdrops, and then those stopped too."
She nodded. "I guess that was where they were headed. I don't think they saw us, or maybe they didn't care. Army. Camouflage paint and all that. Derek said it was a good sign, that there was still organisation and maybe government. But I don't know, maybe there's just the army left, fending for themselves."
Zara said, "they brought food. For a while at least."
"Yeah, but they stopped, didn't they?"
Zara took a few seconds to concede that point: "Okay. Yes, they stopped."
"I tried to believe Derek. This was hopeful and all that. I didn't really. But we went on driving, looking for our next meal. That was when those gang cars drove us off the road, and started yanking us out of the car. They started… they started trying to tear off my shirt, that was when Derek hit the guy. They all turned on him. They circled him and just went for him." She tilted her head to look up at me. "I tried to leave him. I tried to run." As if challenging me to either condemn or absolve her.
"That's good," I said, "that's what he wanted you to do."
"No, not all of him. I don't think he wanted to be left to die. I think he wanted me to drop to the ground on my knees crying, begging them to stop. I can't imagine why he wouldn't deep down have wanted that."
"You don't know," Zara murmured.
I tried to put myself in a stranger's place. Hadn't I hoped to lure them away from Zara when I'd been in their crosshairs, even if I had to do it with my death? I tried to imagine her using that chance to run. Then I tried to imagine her racing over to me, shrieking, pleading for my life. I felt a mixture of hurt and relief when I pictured her running. A kind of dull horror when I pictured her not. Maybe that was Derek, a sliver of Derek: Derek having been magnified in the moment of it actually happening.
"One of them caught me though," she lowered her head. "They tackled me down. I went for the knife I was carrying. It was just a small knife. A switchblade we found. But he bent my wrist back and stuck me with the knife. He laughed. Then he was sitting on me, pinning me down. And I could see Derek lying on the road just a few feet away from me, his face was all covered in blood. And I still kept looking at him… the whole time… I didn't even hear you coming, I don't even remember your car. Or what you did. Just you." She lifted her head up to look at me. "You were looking at me, from above, like you were hovering over me or something. I just felt ashamed. That you could see what they'd done. And then… it hurt…"
"Yeah. Sorry. They were coming back."
"And then. Here. In a bunk bed. In my underwear. Hurting all over. And now we're up to speed."
"Fuck," I murmured.
"It was just as bad for you."
I don't even know how our stories compare. No, I do. Hers had a level of brutality to it that ours couldn't match.
"I didn't have to kill any people," she said.
I winced for just a second.
"See?"
They had it coming. I didn't want to have thought that, but it was already in my head. And even as I thought it, I was already doubting it. Were these bandit-gangs just trying in their own way to survive? Had they just realised earlier than most how badly the world was going to shit. Dog eat dog. Man eat dog. Man eat man. Just give it enough time.
Zara forced a smile, "Well, it's not a competition." She got Tamsin to lie down while she cut away the bandage and cleaned the stab wound. It looked small and innocuous now without all the blood around it. But it had gone deep, and could have been deadly with an inch or so closer to the centre. As it was, it seemed clean, it didn't look red, it didn't seem hot to the touch. Zara nodded in mild satisfaction. "I think this is healing okay. It probably needs stitching or something but I don't know if the job I'd do would be worse than leaving it alone."
Tamsin said, "I can live with a scar." She lay still, only biting her lip a couple of times as Zara cleaned the inch-or-so hole and re-covered it with dressing and bandages. She stood up and walked over to the window, staring out over the grass. "I'd never even heard of this place."
"It's been mothballed a while."
She turned to look back at us, "What's the plan though? What happens now?"
Zara glanced at me.
"We try and live here. We weather the storm, and we see what happens."
"You sound like all this is going to be over one day."
Zara gave me a crooked half-smile. "You do, you know? You sound almost optimistic."
I told Tamsin about the people we'd met, taking wagers on the end-of-the-world.
"I'd bet against," she said.
"Us too. That's what we're doing up here. Betting against."
Picture credit/discredit: author's own work