The Wind in Our Hair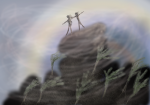 Sun, 10 Feb 2019
It's windy up here. It's exhilarating and galeforce and make-you-feel-alive.
There's a half hour hike through paddocks, and a short stretch of forest, over great big boulders that look as if they were tossed down by giants. And then you reach the headland, and the wind can knock you off your feet.  It's as if it all comes in a wave – a rock-hard tsunami – and it's all you can do to keep your feet.
Aaron stands too close to the edge and he holds his arms out as if flying. He tosses his head back and roars with the wind, his voice becoming one with it, knitting together with nature. I just want to urge him to take a few steps back.
"Get up here," he tells me.
I'm doubtful.  Though we come up here often, and always this. The wind is just a bit wilder than usual, buffeting from all the directions at once. And actually, it's bloody cold.
"Come on! I won't let you fall."
Yuh-huh. My big brave man.  But I trek those few steps with my hair being flayed from my scalp, and I stumble into the limited shelter of his arm.
He screams to the wind: "And we will never ever, ever, ever go back!"
"Never, ever!" Infected with his mood. Aroused by his closeness.
"And this is my girl! Forever and ever."
"And ever!" Let the wind carry that where it will.  Let the wind take that careening down the slopes, into the ears of all those girls who look askance at me, say 'him?' and shake their heads. To his Mum, sunken deep down into a newly opened bottle: I'm not going to leave him as soon as some cute, clean-cut pretty boy comes along. Maybe you got abandoned, but it doesn't mean I'm up for an abandoning any time soon.
He talks about the never-ever, the day we're going to pool our paltry little bank balances and buy ourselves a van. Nothing fancy. Just something that'll get us from point A to point B. And those two points will be the whole country – along with points C, D, E, F through to Z. That, he says, that will be our new life, our start-over.
And I don't blame him for wanting to restart. The kids at school are monstrosity personified when it comes to Aaron. I don't even know why. I just know that once you get that target on your back there's no amount of scrubbing or painting that'll ever get it off. It stains you deep, and it stains you into your early twenties. Fades slowly. And it leaves the kind of scars we think we should dismiss, but can't, because they cut deeper than cancer or the loss of a loved one. We don't like to say it's worse, but it is.
And his dad being long gone and making it worse with a postcard or two. Just enough so he can't be completely forgotten, but nowhere close to what's needed to be a kid's father.
And his mum, with her refuge in wine. She's had it hard – three men before Aaron's dad, all of them worse. One so bad that's he's still in prison four years later for what he did to her.
Aaron won't touch a drop.
But he grieves. He comes out here with me, and we stand too close to the edge and he screams at the wind.
He yells at me: "We could fly!  I know we could fly!"
And I clutch his arm, afraid that he'll suddenly put that into reality. Just a single step, maybe two, and this cliff-face is almost straight down. For a little while, spread-eagled, no parachute: it might just feel like flying. It might feel as if freight trains and jumbo jets were rocketing past.  It might feel electric, liberating, undeniable.
He wouldn't… not to me…
"Come away." It's such a long fall.
The cliff-face is garlanded in small, scrubby trees. Tough little buggers that cling to edge, that scrape at it with their claws. All bent in against the rock, scarred by the wind, shaped by its blowing constantly against the hillside.  The blue sea far below. The sparkle of sunlight, a stillness beneath the wind.
He catches me around the waist and pulls me through the long grass, whooping and laughing, snatching a quick kiss the wind would try to deny him. My hair blowing all up in my face, almost blinding me.
"Let's make love in the gully," he says.
I'm seventeen. I want to and I don't.
"Come on!"
"It's freezing.  It's sandy. It'd be fucking miserable."
"I'm game if you are."
"I'm not."
"Well, I can't afford to take you to some five-star hotel."
"I'm not asking you to."
"It's romantic," he insists.
"You're horny," I counter.
"Damn straight. And let me tell you, it is. Here, feel." And he grabs my hand so I can feel just how hard he is down in his trousers.
"Later." And I'm trying to sooth something, angry at myself for feeling as if I have anything to make up for: "And one day. In the back of a van. On the top of a mountain."
He looks at me with a face full of seriousness: "Promise?"
"I promise."
We slide into each other's arms to walk down the path again. There's real life waiting at the bottom. A world where we don't get to fly. Not the likes of us. And who's to say we'll ever have what it takes to buy that van, or the money to pay for petrol to make it go anywhere. In the meantime, there's the wind in our hair, and the promises we've made to each other. 
Picture credit/discredit: author's own work.