Winter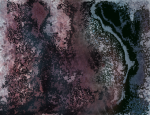 Wed, 26 Aug 2020
Why do you always have to be winter?
You know, I used to think it was me. That it was something I did to earn this wall of determined, premeditated ice. I used to lie in bed at night thinking about it, trying to figure out how I could be different, how I could say something, or perform some sorcerous little gesture that would turn the tide for us. I used to try to imagine it: that us. That changed landscape, that warming, smiling, caressing sunlight.
I don't imagine that anymore.
#
I think you wait until I'm gone before you wake. On purpose. Careful. Lying in the shroud of that bed, and listening as I move around the house. You hold your breath maybe, and you make no answer when I call out "I love you," as I walk out the door.
#
So, do I love you?
I think I do. I know I did.
In a time before the tundra there was love that was like a golden afternoon. You and me walking in that sunlight, listening to the birds sing, basking in a savoury warmth. I would admire the way your skin reddened, the way I brought out a light in you. And surely you brought one out in me too? A blue ocean of future laid out in front of us. A blue sky above us. Warmth and security filtering through glass: red and orange, marbled and golden; a love so lazy in its certainty.
#
I come home to the storm. I walk in out of the rain; but it's colder in here, and the wind is already swirling, the agitation sprinkled through the air.
"What the hell time do you call this?"
"I just… had to swing by the shops."
"It's always some excuse. You kept me waiting. Now I'm late."
"Sorry."
"I've got to go. You've made me late. I needed the car."
I don't know if I should reach for you, offer a condolence, a reassurance. I feel like a proffered hand would be slapped away.
"When I tell you I need the car by six, you be home by six. Damn it! How many times do I have to tell you? How hard is it to remember something? I'll be back after midnight. I might be. Maybe I won't."
The door always slams. As if that door were made for slamming, for loud noise, and vibrations that stream through the walls and settle into the cracks.
#
It's been a long winter.
Funny how the winter sneaks up on you.
When the storm clears there's always a frost. That frost comes in thick, and it settles hard. I wrap a cardigan around myself as I sit on the couch, not looking at the time, kind of hoping, kind of dreading, that this will be the "maybe I won't" that actually bears fruit. It'll be my own company for at least a few days, even though your shadow will fall across doorways, and your side of the bed will be full.
Nothing to do except try not to mind.
I stroke an old photograph, the two of us together. We're both in scarfs and hats because there's snow on the ground and a little in the air. Some of it settled on our shoulders and on our heads. I smile as I look at it because to me it's a picture of summer.
Picture credit/discredit: author's own work