Animalium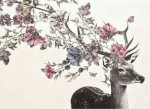 Thu, 13 Apr 2017
Hello,
I hope that you are all well. Just a brief-ish foreword to disclose some information regarding this piece. I am considering this piece for entry into the upcoming Young Writers Awards 2017, a competition run annually by the BBC for young budding authors aged fourteen to eighteen, living in the UK. If you are eligible to enter the competition and feel that it would benefit you here is a link: http://www.bbc.co.uk/programmes/articles/4PrGlh3csfFgrgdw43K698Q/the-bbc...
Any feedback or criticism at all, whether it be positive negative etc. would be extremely helpful and I will accept all gratefully! Please be kind enough to let me know if you did or didn't enjoy it and the reason or reasons why.
You may also remark if you have read any of my other literary works that some of the imagery used is comparable. However, I have a perfectly viable excuse: I was unfortunately and very recently attacked by a severe bout of writer's block.
Thank you for taking your time to read through my brief-ish foreword and hopefully my work.
Kind Regards,
Rosie Sumner
PS: If you have any enquiries regarding any of my work, please do not hesitate to contact me. If required here is a link to the artist of the cover image: https://68.media.tumblr.com/bb601adf8f7b069ca3a7909e44296991/tumblr_nz6i...
...........
A chill barrels over the land with bare teeth and icy jaws, prowling hungrily through shadow. The ink of night bleeds into winding woodland, silver moonlight drips through branches, pooling upon frozen earth. A creature darts nimbly through forest, as keen as a hound. The creature regards it's surroundings with nervous apprehension. Eyes of molten copper and igneous gold burn darkly through shadow, searing through ashen gloom. A coat of amber flame scorched by embers that flicker in the half-light, a tail singed with frost, ears that adorn his head with a crown of copper wildfire, this creature is Fox.
This creature is crowned with moonlight, gifted with a haunting melody that sings to the night sky and carries to cloud-veiled stars. This creature hares through barren pine forest, a deserted tangle of woodland and over desolate tundra, ice so cold it burns. It's kind sang the moon into existence and now they cry to the starry void for a lost love they will never touch again. This creature is Wolf.
A crown of ivory that rears upwards, tapering spires that bridge the empty abyss between the kingdoms of earth and sky. In hollow, cloud veiled skies a pearly river of argent silver glistens. Below a meandering river twists through the heart of dense forest like a ribbon of mercury. The creature seems to balance the weight of the stars upon its antlers, setting every distant, sterling cinder alight upon each spire. This creature bears the wisdom of a lengthy reign reflected within its regal gait and eyes that mirror the river of silver above, drowning silver fires with eyes of liquid night, a river that ensnares the surrounding darkness swirling in a sinuous stream of aqueous shadow. With eyes of ichorous this creature regards their woodland province; this creature is the hart of the forest. This creature is Stag.