Evensong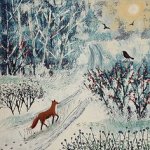 Sun, 07 May 2017
'No morning; the dawning chorus will never return
No matter; the stars in darkness will forever burn'
………..
It is at present the night's darkest hour; the hour before dawn, the hour before dawning chorus.
The binding between the dead of night and the vitality of morning becomes unravelled by the ashen fingers of dawning winter sunlight, the bittersweet lament of bird song that mourns the loss of the cloud-veiled moon and stars. The dawning chorus has begun, this is the point at which the threads of life and death become torn apart at the seams. The shadows regard the eastern horizon gravely in the moments where night is bound to day, sunrise.
The ink of night bleeds into labyrinthine forest, silver moonlight drips through branches and pools upon frozen earth. With eyes of ichorous a creature regards their woodland province. Eyes that mirror the river of silver above, drowning silver fires with eyes of liquid night, a river that ensnares the surrounding darkness swirling in a sinuous stream of aqueous shadow; this creature is the hart of the forest. A crown of ivory that rears upwards, tapering spires that bridge the empty abyss between the kingdoms of earth and sky. In hollow, cloud veiled skies a pearly river of argent silver glistens. Below a meandering river twists through the heart of dense forest like a ribbon of mercury. The creature seems to balance the weight of the stars upon its antlers, setting every distant, sterling cinder alight upon each spire.
Night vanishes quickly with the dawn and it takes so much longer for it to return. However, one must also remember that it does return with the dusk; it just takes time. Dusk claims evening and the last tendrils of birdsong that plume upon cold winter air. When Evensong has begun, it heralds the arrival of night and the moments where night is bound to day, sunset.
The hour before darkness, the hour before dusk, the hour of Evensong.