Go Puny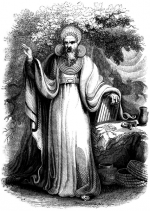 Tue, 20 Jul 2021
Somewhat appalled, she watched a sort of inclemency unfold before her, the two people like gladiators of old in the circle, hurling insults like tridents; and looking at the proud face on Elder as it was all going on, she spotted a twinkle in his eye, a twinkle like a silvery swastika, compelling her to recall what Miss. Rowe had said about the volkisch tendency, a theory the old schoolmistress had which proffered a link between mysticism, and the appetite for it, and all out full blooded Nazism.  It's a fast track to fascism all that getting in with nature, she would say.  Stay out of all that.  It was a far cry from the cautioning those in the other schools were receiving, where more otherworldly devils were evoked to warn children away from the occult, but Imogen had attended a charter school, one of the finest in the country as it turned out, and one which frowned upon papal voodooism, so if Miss. Rowe said it well then it must be true.
Still it was hard to put Hayes Elder in with the Nazis.  Even in the senate, he abstained from the popular nationalism of the day.  Yes, he was a most unusual addition to Seanad Éireann.  A buck and dandy if ever there was one.  He'd show up every day in a velvet waistcoat and silk pantaloons as though he'd been sent by the Georgian Period to remind everyone.  Orthodoxy be damned in his presence for it was he who represented the rebel statesman, the free-thinker, the one the other senators ridiculed daily yet all discreetly feared for the times they were a changing a changing.
The 1960s were his way in, a decade in which someone as he could be entertained as a member of legislative assembly, even just for the antics of it.  Everything before the 1960s was for Hayes Elder simply...a lot of waiting.  Waiting for his era to catch up with him. 
He looked as though he was still waiting, even though the 60s were long over. 
And yet there might be something in Miss. Rowe's theory.  For there was clearly a cult of personality around the old codger out of time.  Beyond the pastoral setting and sanguine lifestyle he provided for his followers, they remained followers, disciples, able and probably willing to be corrupted for just a little approval from the fountainhead.  And clear to the eye also was the passive authoritarian in him.  For here were these people now slumped forward and emotionally dismantling one another for their verbose and pampered figurehead's pedagogical fancies.
SASDY:  You are so full of yourself.  You'd think you had never been criticised before.  And it is obvious to all of us here that you have been, many times, and you are covering it all up.  You are most criticisable.  Those books were really bad.  I don't even have to read French to know that because I know – in fact we all know – how the world reacted to them.  Revulsion I believe is the word. 
ISMAY:  Your penis is uncircumcised.  I do not like it.  So dirty.
Frances Buckley cackled.  The others looked at her and she raised her hand to her mouth to show abashment.
You could romanticise the crustier lifestyles until the end of time but there was no getting away from the fact that this was a very odd way for people to pursue betterment.  It was sheer abuse.  Imogen wondered as she watched Elder grin blissfully like a high priest before his flock if perhaps all of this indicated the world was only going to worsen in the 1980s.  Maybe that was the decade he was waiting for all along in which to begin the wreckage of modern society.  Or maybe she should train herself to stop seeing fascism everywhere.
She looked over at Devin.  He looked quite unresponsive to it all.  She'd watched him ogle the Stewart woman's tits earlier.  Nothing necessarily wrong with that ---- but wasn't he very blatant about it?  She wouldn't have given him that aphrodisiac if she thought he would use it so inappropriately.  It was rare she encountered a romantic challenger but when she did it was always tits.  She was satisfied with her own breast size and only gave the matter a thought when a larger pair came bouncing into her life, distracting, bamboozling everything.  Unless we consider also Jayne Mansfield, most of the great stars were relatively small-breasted so...   At the same time, Devin was looking very bored indeed, restless sitting there, fidgeting, back to his normal self.  Maybe he wasn't sold on the New Age after all.  She would answer his carefree bosom-revering by allowing herself more extended glances at the other Stewart, glances she had so far hidden as one must learn to do when already partnered.  Besides, wasn't Jeremiah Stewart more her type with his big muscly arms.  Most of these Belfast hard men were by and large skinny things, like wild wet-haired minks, except for the older ones, with their guts and fat faces.  Devin was handsome.  But a mink.
Sasdy and Ismay Tasse rose from the centre chairs and hugged each other procedurally before going back to their places in the circle.  There was silence in the room as the group waited for Elder to address the session they had just observed, notebooks at the ready.  But instead of doing this, he strolled along the side of the room and stood at the front window, thinking.  The rain was beating hard now and you could hardly see outside at all. 
Then he turned and gestured to Imogen.
Imogen, my dear, would you and your Northerner like to...give it a try?
Give what a try? she asked.
Truth-telling.  I assure you it looks much worse than it is initially but everyone here can vouch for the positive effects of the exercise.
Some in the group came up with agreeing mmmm's and slightly forced nods.
I don't know, said Imogen, looking at Devin. 
Her Northerner suddenly roused from disinterest, stared first confusedly at Imogen and then turned to Sasdy and gave him a cry-for-help look.
Imogen continued:  I didn't think you wanted us to go that far.
You really thought I couldn't possibly ask you?  Come on, moonflower, yes, you are guests, I did not invite you here to join our group, but as you are here in the capacity of...eh...journalist, shall we say, don't you think it might be helpful to experience what it is we do for yourself.
But we meditated for you, isn't that enough? cried Devin, his voice breaking.
I promise there's nothing to be worried about.  Your relationship should only be stronger afterwards.
I'm not seeing what the point of it is, said Imogen.
Elder paused, then said 
Don't be afraid of your faults.  Wear them proudly.  Like badges.  Your ailments.  Your failures and inadequacies.  Facing these things head on you'll find yourself feeling a whole lot better.  Come out from under the shroud and walk puny in the world.  Reduce your hang-ups and interactional obligations.  Find your inward integrity by letting the outward fall.  For then everything follows.  Humility.  Redemption.  Peace.  And there are additional benefits: people are more likely to offer you a cup of tea first for instance.  And why would they do that?  Sympathy?  Well yes...there is something about the vulnerable people just cannot resist and they will likely prioritise you when they are going to the kitchen.  But something else.  Something more.  They will see in you something glorious, something inspiring.
What about rage?  What if it only results in that?  Me and him aren't used to all out war, you know.  We've only been together a short while.
It's true, said Devin.  We only ever bicker about trivial things.
I wouldn't call them trivial, argued Imogen.
There might be a little rage at first, or sorrow, or disgust, but it's trial and error like everything.  That will depend on your present constitution.  These evils will soon pass.  Come on.  Go puny.
Imogen enjoyed getting into things.  Who didn't?  Getting in appealed to most people, particularly if they were invited or welcomed with open arms, all the better.  Sometimes you want to get into things so much that you can't see the perils that lie there until you're finally in there.  And sometimes you see the perils from outside but you go in anyway because just getting in is enough, the act in itself providing so much excitement that it is quite easy to disregard all perils.
Getting out however.  That's difficult. 
The Nazis probably had the same problem, she thought.
Eventually, and with some reluctance, Imogen and Devin agreed to de-egotise and they moved out towards the chairs.  Knox excitedly mounted the camera on his shoulder but there was an immediate glare from Imogen and NO!  Don't film us whatever you do.  Not this part.
Fine, said Elder.  Knox, go off and smoke a doobie like a good man and give us all a bit of peace, will you.
Knox pouted and nodded as someone primed to do an assigned job but more than happy to drop everything if it meant doing anything else besides.  He placed the Super 8 camera on the floor under his chair, and smiling he turned and walked off.
image: wikimedia commons