How's This For Ambience, What?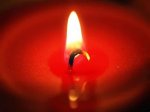 Wed, 12 Jan 2022
Two large metal torches.  Twenty two candles.  Six brass candle-holders.  And the wall sconce in the front room.  Besides the usefulness of the candles especially in creating an old-time atmosphere, for soirees and suchlike, for general mood purposes, these alternative light sources were in good supply in the house of Hayes Elder because blackouts were regular in the region.  The last had occurred only one month previous and Ismay was of course first to speculate on the reasons behind it.  Do not rule it out, she said, when someone pointed out that flying objects may not be responsible for every anomaly.  In fact, the area north of Steever Hill was one of the last in Ireland to achieve full electrification, so the past year had seen much tinkering about in the countryside by various public and private entities, not to mention the smattering of outages that came in the wake of the mid-decade oil crisis.
Now that there was light, guests and residents – be they animate, inanimate, or exanimate – began to reconvene in the front room.  Moloney was first down the stairs, but curious as it may seem he did not have escape on his mind.  He too was determined to make sense of all he had seen and heard so instead of making moves on the door he rummaged around in the room looking for the brandy he'd had before his sojourn upstairs.  The bottle was nowhere to be found, having been taken and drained in the loo not a half hour earlier, and now the drainer, Sullivan, or strictly speaking, his shocked-still body, was brought into the front room and placed on the sofa.  The second sack of bones, that of Long Gully or Steever Man, came to the room minutes later, Sasdy and MacKenna carrying him slowly and carefully down the stairs and laying him on top of the bean bag.
The Stewarts were the only ones who did not return to the front room since their tantric communion had been so intense they were afterwards pressed into a deep and peaceful sleep and deprived of the jolt others experienced when the power went out.  Well, aren't they a fine and healthy pair, said Elder, when he noticed their absence, and this led to Devin and Imogen sharing in glances their mutual resentment of the fed and berthed Buddhists. 
Ismay Tasse stayed near the sofa comforting Abby Kane who looked tense and febrile ever since Sullivan had his shock.  An awful fright had come over her, the bombshell of quietus, and a panic like one she'd had before over the consequences of being in and out of a body.  She had glimpsed the afterlife – or so she believed – but her own near death was brief-lived; for she had risen to her feet right as rain and gone on with her life contentedly.  Not a bother.  Minor scratches in the way of academic reluctance and toasterphobia, yes, but punches swallowed.  Sullivan had yet to come to, but he also looked like he'd reached the frontiers of heaven, or was a long-distance spectator, if not quite there yet.  He looked like a nineteenth century painting of sadness.  The small wrinkled hands white and shivering.  The lashes and brows on him so long and bushy they formed dark ruffled curtains over his clapped-shut eyes. 
            He will be okay, said Ismay.  The doctors will take care of him.
            I worry, replied Abby.  The nearest hospital is an hour away. 
            He's breathing.  So wherever the current went inside of him, it did not go anywhere devastating.
            It's in his hands now, by the look of it.
            Poor darling.  I would touch but afraid to get a shock off him myself.
            Oh, he's not contagious.
            Abby leaned forward and put her hand on Sullivan's cold to chilling forehead.  As she did this, Elder came bumbling up to them.  A bottle, a full bottle of brandy had appeared as if by magic in his hands.  The poor fellow, he said. 
            Oui, said Ismay.
            You called an ambulance, yes? asked Abby, doubt plain in her asking.
            I did, I did.
            Good.
There was a telephone in Elder's bedroom, made of gold with a silver rotary dial, which he kept in the closet, the only disconnected contraption in the house, and it had been that way since Olga left.  Kindred Eye-related phonecalls went through Maureen Dineen, his secretary, who lived in Dublin and corresponded with him infrequently and in the old way, the venerable way.  The age of letters was not gone, oh no.  Nor postcards.  For this very progressive man, this was the most conservative thing.   
       How's this for ambience, what? he said.