'All That Jazz'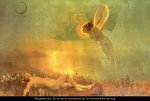 Thu, 10 Mar 2016
Carpe Diem, and all that jazz...
you preach to me...'Seize the Day',
live it as if there's no tomorrow...
and here, I am...dreading
what lies in store.
More X-rays, more tests...
on that roller-coaster of a ride
before it inevitably slams
into the buffers.
So why, I want to know? Why
not live this day to come as if 
it were my first and my only one;
how precious then, seeing 
the sunrise, like Adam and Eve
in that garden...
watching the sun – peep
golden, so very shyly at first 
from its canopy of trees?
So...turn my careworn bed 
toward the garden...open wide
the curtains; my hands – fingers,
pale fishes 'neath the water
in this bowl as you wash them;
brush and comb my hair, glance 
out the window as you do.  Witness
morning dew as the anointer 
of each living, breathing thing;
even insects, crawling
over stones.