Always Read the Label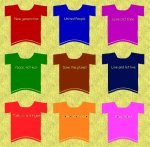 Wed, 10 Dec 2014
2 likes
In between his cornflakes and his toast,
he looks at me – says he thinks
he's bipolar. 
Why's that? I ask, trying to stay calm.
His mood swings, he says;
one minute, he's up, the next –
feeling really depressed.
Tell him it's probably hormonal; 
seeing as he's seventeen.  
Tell him to bide his time before
he labels himself anything...
speaking of which – read out loud
words on a small, pink sticker 
on the hem of his new T shirt. 
Made in the Philippines; 
smile to myself recalling that sojourn; 
where he was conceived,
right enough.
Composition, Ninety percent 
cotton, six-percent Lyrca – four percent, 
Miscellaneous Fibres.
Seemed he was quite a mixed bag;
more to him than met the eye.
On reflection – a bit like me, 
and most everyone else.