Anniversary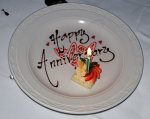 Thu, 18 Feb 2016
1 likes
And so, it's that time of the year, again...
a time I don't want to remember...
nor forget, if that makes any sense.
At least we kissed goodbye...you squeezing
my hand, saying if ever I needed anything
to get in touch...
You gathered up your books, your CDs –
took that decrepit old chair of yours – squeaked
like mad, but only when you sat in it...
yet left behind your copy of Pincher Martin...
I have its twin, of course...pity we never did make
the grade in 'A' level English Lit...night-school
you and me – always fish and chips after –
pickled onions on the side
and say, where are you living now, and who with
and I bet you, anything you like, you've a cat?
Matilda died last year, by the way, along
with part of me...us, really.
Sad...the 'we' we were didn't work. Kidded myself
it did at first, but those rose coloured spectacles broke, and
if I'm honest, there were more bad times
than happy ones
except, I did love you, once...loved your back
with all those freckles I once joined up with a biro
whilst you were asleep...more a drunken stupor
but we'll draw a line through that.
I hope you found someone to love you lots...
someone, as little like me as somebody could get...
and that all your Christmas crackers have hats, and mottos in.
I wish you gloriously muddy boots...crisp, clean sheets,
super-fast broadband...pictures of Daddy – stuck –
haphazard on the fridge...have you running to the mirror,
just to check your arms and legs truly don't 
emanate from your head.
And on this day, I drink a toast – crazy, comatose...kamikaze,
and some, to what were the best days of my life
we never had.