Boxers in Yellow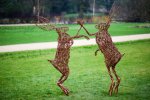 Fri, 26 Jun 2015
The summer solstice, and once on a rising sun...
a jolly red ball, like the nose of a clown, 
jostles over the hedge... 
So spotted – a down of hares
busy boxing; paws up for a fisticuffs, 
fight-ya-for-it, rough and tumble.
Two pairs of ears, all-a-twitch; 
pert as the nipples of a fool-hardy dipper
in a verdant, rippling sea, throbbing with birdsong.
Bolt upright, they sit...then they're off 
like a shot, until a crouch-in-the-field-quietness 
says I'm here, only I'm not,
amidst a crop, so impossibly yellow, all awash
with mustard-seed rape...
while a milky-moon, moons down, 
till over the hill, and far away they scoot, 
when they are done.
But who beat who? No one I guess; 
only doing what hares do.