Clothes-Speak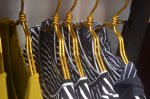 Sun, 02 Aug 2015
Folk don't want to know when one speaks of dying.  
It's a no-no.  People clam up...cross to the other side 
of the street...don't what anything to do with the darker
side of life, inevitable though it is. 
So what am I left with...talking to myself,
perhaps?  Anyway, they wouldn't understand, not
about death, even though it seems they ask...her clothes,
So... Where did she go? Hanging, limp...languid, as they are, 
in the closet, but I do not know the language
of clothes.
If I did, I might tell them how much I miss her,
and how, if I talk about her ancient Aran jumper, dumped
at the bottom of the closet...the one she always wore 
to garden in the rain, it might unburden me...at least
be a vehicle for my grief...
but when I open the door...see its arms folded 
across its chest in denial of everything, I know
I'd be wasting my breath, and so Oxfam might be 
the only answer...give them a new lease of life.
But what of me?  What did she bequeath?  And why?
There can be no meaning, perhaps they'd answer...
if they could, None other than you find here,
no other reason but what you make of it yourself.
That, and her last request, unwinding, still from my ears, 
May I wear your dress...the yellow one with birds on, 
for my final trip? and she did, and if it were here
right now, as it couldn't be, after going, there, with her, 
it would, at least, have given her some kind of immortality, 
or would it just have been her Coco Chanel?