My Mother Myself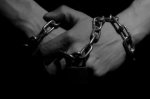 Fri, 21 Nov 2014
A Monday in the long, hot summer
of 1983.  The bus window flicked with flies...
as the one in her room – Tooting Bec Asylum.
My mother – sitting in a chair by her bed...
sixty-four, but looking ninety.  Dad and me
chat amongst ourselves...speech long-gone 
lost to her.
If only I had known it was the last time
I would see her – when would I have left...
ever adding minutes of her life to mine?
As it was, a doctor on his rounds ended
our sojourn, so I kissed her, stroked her hand; 
nails like daggers.  
Such was her care in that god-forsaken place;
told her we'd come again, tomorrow.
May as well have saved my breath, for all it meant;
for her, there was no tomorrow, nor yesterday,
only perpetual todays.
Stepped out into a muggy Monday afternoon
onto a number 9 bus –Tooting to Putney;
my mother – sectioned, aged 64 and for why?  
Early onset Alzheimer's – her crime...
and theirs.  A blessing she passed away
as promptly as she did...just two weeks on;
disinfected, dehumanised, degraded...
and my dad's entry in his diary that day,
'Doris died. Had fish and chips for tea'.
When I read that, years later, on his own demise,
felt like a kid, on the stairs, at a grownups'
dinner-party...
there – accepted, and yet, not really present.