Pas de Deux for Violin and Sky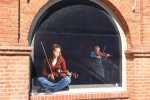 Fri, 08 May 2015
Absence is the highest
form of presence,
didn't someone say?
Last night I dreamed 
we two were in a field;
black and tan Bessie
running
on ahead...ears trailing  
dainty, yellow Goat's Beards, like
twin feather dusters, dipped
in liquid gold.
The moon rose – a sovereign
in the blackened palm
of a greedy sky to a symphony
of zealous crickets, 
and a moth
feathered my cheek, or 
may have been the slight
stutter of your lashes 
as you knelt to bless me
with a kiss.
I reached for your hand
remembering how you held me...
you – the bow to my strings,
but only silence ricocheted back
from the furthest dark star.
Last night I dreamed
you were still here, next to me,
but when I woke, just 
a few scattered hairpins
and a precious dint on the pillow
and I realise
I must let you go
even though you go on telling me,
so terribly beautifully, things
I don't want to know.