The Prodigal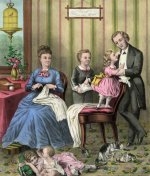 Mon, 30 Mar 2015
1 likes
OK – so you've finally made it home, and yes...
I am mad at you, and I might sulk for a while, but 
you know by now, only too well, how to get round me. 
You have to understand, I worry about you, like crazy;
silly cow that I am, but I do.  You look a bit worse
for wear...the state of your coat.  Looks as if
you've been pulled through a hedge...backwards.
We'll sort it out...later, and  I'll see to your tea.
Hark at me...just as if nothing had happened,
but like I said, I'm a bit of a sucker, a glutton
for punishment, like so many of my kind.
But, steady on! Gently does it, please.  You almost 
made me spill my gin and tonic! Sit here beside me;
that's right – snuggle up.  I'm freezing.
Here...hope you don't mind my saying, except
those nails of yours could do with a bit of a clean, 
and a short back and sides; too much digging 
in that wretched garden.
My hands are like ice, but you soon warm them up,
and you smell nice; guess perfume connoisseurs might
describe it as, 'smoky, with a touch of pine – undertones  
of apple-wood, plus a hint of chives and mint'.
Mmm...that feels good; you've got such a knack
with the old 'leg massage'. Except...don't go to town;
you'll snag my brand new tights; if looks could kill, eh...
those eyes of yours say it all...a crystal-hate,
laser straight, aim at the heart. 
Sod it! What did I say about those nails; a scratch –
right there on my thigh.  Look at that! I'm bleeding,
but, only a little; I'll survive – just.  
Seriously though, how I wish he'd love me that way, 
and he might...if he was more like you...in at least
one of nine lives.