Ruddy Ducks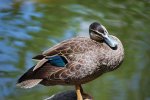 Wed, 02 Sep 2015
I wouldn't care if I never saw
another ruddy duck...they drive you mad
after a while, especially in the spring;
'at it' all the time and I do not exaggerate
around the pond in front of my kitchen window
even in my herb pots on the patio, right
under my nose.  
Trouble is the females don't want to know;
they would do anything rather than succumb
to anyone other than their partner's goings on...
a regular free for all it turns into...a 'gang-bang'
if you'll pardon the expression, but I'm sorry, 
that's just what it is...
And afterwards she's left distraught, pretends
to preen her feathers, puffs herself up,
with a 'how dare they' look in her brown eyes,
and when I'm there, trying to weed,
trying to ignore the constant quacking
and posturing, she'll follow me about, sit
right where I'm kneeling, at my side.
I try to ignore her; fed up with chasing
all the randy males away, only for them to fly
one lap around the field then back again,
and the only thing for it is to raise my eyes
away from the pond, the lawn, 
and the resident mole – designer 
of the world's first high-rise molehills
to one small cloud, like a rose through a buttonhole
sewn in lemons, blues and pinks, as worn
by this bruised St. Martin's sky...undecided
whether or not to rewrite the day; changeable, 
don't they say? Nice weather, though...
for ducks