The Undergraduate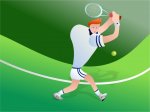 Fri, 04 Jul 2014
1 likes
To set the scene, it was 1968; Jonathon – seventeen, and me?  
Shall we say…a year or more his senior? A tennis coach, 
for my sins, and I was teaching him at his mother's behest. 
In her eyes he was a Wimbledon champ in the making. 
Who was I to contradict? Tell her she was pissing in the wind.  
She had more money than sense, so what the heck! 
It's mid July...hot and close, and sticky.  More to life 
than tennis;  play a couple of sets, then call it quits – 
drive him home in my beat-up Morris Minor – windows
down,  wind in our hair; you get the drift.  He asks me inside...
his mother – not there, but he was sure she wouldn't mind.  
'I'll show you round,' he suggests.  'Perhaps you could use
a shower. I'll fetch a towel,' and then he shows me his room;
a garish red Dansette – on the floor beside his bed. "Would madam
care to dance?" he asks...proffers his hand. 
Vintage  'dirty dancing',  as he undoes, with finesse, every last button
on my Mary Quant  dress, keeping step, to perfection, with Ravel 
and his Bolero;  a much loved LP, evidently, 
with its tatty cardboard sleeve.
The rest is history...until his mother comes home – invites me for tea 
when I'm forced to admit, "His technique quite belies his age; a natural, 
I'd say," when she enquires as to the state of the afternoon's play.
"So, in your opinion, you think he shows great promise...ten
out of ten, you might say?" 
"Absolutely," I reply. Couldn't have put it better myself.
Thought we'd have another session – tomorrow morning."
"Yes, of course, dear.  No expense spared for this son of mine.
And I daresay you'll soon be needing new balls.  What do you say,
Jonathon?"
Jonathon chokes on his Garibaldi.