For What it's Worth...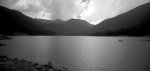 Fri, 07 Aug 2015
How could I possibly have known
when I woke that December morning, 
the last of the month,  it was to be
the day we two would make
that final ascent?
Your hand was like ice – I tried, so hard
to warm it with mine; you wanted to give up
you told me, but there was no turning back;
we'd gone too far for that...
Those moments still fresh in my mind,
when the wind almost blew us over...
when the track ahead grew narrower
till there was room only for one.
Letting go your hand was the hardest
thing I've ever done, and yet you went
for miles doubting my love.
Mad at me, somehow, because I couldn't 
kiss away your pain like I used to –
couldn't just slap on ointment, and a plaster...
make everything better, and you had no idea
how guilty that made me feel.
If you'd had children of your own
you would have known – love's worth
is not measured in the warmth of its keeping
but in the bleakness of its letting go.