Dawning Glory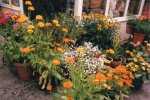 Thu, 06 Apr 2017
Reminded me of
last years sunshine,
days sown in packets
of seeds with love,
strange how even the
smallest of wonders
can conjure up long,
hot endless summers.
Big bags of fine compost
filling tray after tray,
leaving nothing to chance
as each new life finds its way,
silly it might seem, but I recall
spending many hours talking
to those seedlings...I wonder
was I wasting my breath?
Even played music – was it
Vivaldi Four Seasons that
helped you along, or good
old fashioned watering?
Pots now filled with golden heads
which seem to smile in summer rays,
while gentle breezes catch the leafy
foliage which sways with slight quiver.
Now as I wake at early morn,
in garden for a stroll, recalling
bees partake of nectar, glad
of Springs that now live on.