Dwellers of the New World Chapter Seventeen ( Pt 5 ) Old Friends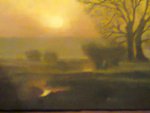 Wed, 15 Jul 2015
Brigs refused to look after the children, saying he had too much to do and would leave it in the capable hands of his crew.
"I don't mind looking after them!" Declared Peco. "I quite enjoy their company, as long as someone helps out too."
Varg was volunteered by Brigs; much to his annoyance. The two men took the boys up to Brew Cottage, crossing the sand, the ale house awaited with it's aroma of hops from the plantation, it excited the two men to think they could spend the rest of the day downing beer. The children were allowed to drink pressed apple juice from one of the other barrels too. Supping ale, made Peco and Varg's job of child minding less demanding.
The two men watched as the boys enjoyed running around and climbing up and down the rocks. Playing on the sand had its adventures too; using some of the beached sailing boats, they made-believe to be Ocean men, pretending to be terrified of sea monsters, although they hadn't actually seen any on their return journey – but they could imagine.
The boys were amazed by the huge Snags that swam proudly in the Ocean, their heads held high when pulling the ships. They envisioned the flying fish, as thoughts of being chased along the beach, had them running for their lives, some of the youngsters said the fish could lift a boy high into the air, carrying him away to some far away place across the Ocean, never to be seen again. Oh! What tales they'd have to tell when they finally arrived back with their families.