Dwellers of the New World Chapter Seventeen ( Pt 7 ) Time For Healing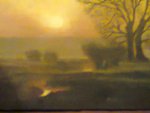 Fri, 17 Jul 2015
Dawson could hear the echo of water dripping down the walls and a dampness as on a hot, sticky day in Summer, though it felt homely and not at all cold or unfriendly. He'd never been in a cave quite like this one. There was an abundance of bright, radiant creatures attached to the walls, that glowed in luminous rainbow colours beneath the surface of the water they were about to enter.
"Can you swim under water?" Uttered Si, taking long strides and grabbing the man by the arm, beckoning him on.
"Yes!" Replied Dawson. It looked inviting as they both stepped in and dived under. Dawson was fascinated by the changing colours of the shells as their glow began to hypnotise him, he felt as light as a feather, almost as if he were flying. Calm washed over his body, a tingling that rejuvenated like he'd not experienced before.
Sensing his strength was returning, Dawson's heart began beating fast with excitement as visions of his wife and children came into view, seeing so clearly, it was as if he could reach out and touch them, an overwhelming feeling that anything was possible gave him comfort. Dawson also noticed Si's warts disappearing – Varden was so right about this water, it most certainly did have healing properties, the like he'd never experienced before! He thought to himself.
It wasn't long before they swam out of the tunnel, much to Dawson's irritation, he wanted to stay down there, soaking up the feeling of euphoria, but Si grabbed his hand and led him into the pool, where they rose to the surface. Dawson was surprised to find himself in a warm; homely cave. A fire was burning and the smell of salty fish filled the air, his mouth watered, as he licked his lips, not realising how hungry he actually was.
"I've made a special brew for you – it should help with the healing process!" Announced Si, as he waded out of the water. "You get out when you've had enough, the water can be quite overwhelming the first time you experience it." Si made his way over to the fire, the warts once more returning, though they seemed not as bad.
Dawson floated on his back, all his muscles relaxing as the water lapped his body, no longer did his head ache, all pain was now gone; at that moment he could have stayed there floating forever, lost in his own thoughts.
Si suddenly called out; "I think you should get out now...here! Drink this brew."
Dawson reluctantly did as he was told, his clothes clung to his wet body, as he made his way over to Si. "So! How long have you been here?" Dawson enquired, as he undressed, not feeling at all exposed, it just seemed the natural thing to do.
"Many – many Summers and Winters, too many to remember." Si replied. "Here take this fur and wrap it round you." The creature placed the pelt at Dawson's feet. "Would you like some fish? It was caught fresh today."
Dawson now starving was impressed and said yes, with anticipation. Si made his way over to the spit, taking the fish and placing it on a flat stone. Making his way over and desperate for food, Dawson went to pick up a piece of the fish, which fell to pieces the moment he touched it; the heat burning his fingers. "Ouch!" He declared, his face screwing up in shock.
Si grinned thinking the man had no sense, not realising that Dawson wasn't used to food cooked over a fire."You'd better blow on that there fish – cool it down a bit before eating."
Blowing and taking a mouthful with his fingers, the fish tasted so good, that Dawson could have eaten more, but he didn't want to appear greedy, so licked his greasy fingers and drank the brew, which tasted to him like honey but with a dash of mint and some other herbs, but he had no idea what they were.
Once Dawson had finished his drink, he realised he'd out stayed his welcome and needed to get back to the waiting boat. Placing the tankard down, he rubbed his hands together and announced. "I think it's time I was leaving; the others must be bored of lingering around for me."
Si sat with his head bent forward and eyes closed, he placed his hand over his mouth rubbing his lips and nodding in agreement. "That's a good idea, but you know, I'll need to help you back over those boulders again, they're no easy task."
Dawson agreed and began to dress in the wet rags he was wearing. Finally ready for the swim back, they entered the water again and dived under, it was a lot easier going back, now Dawson knew what to expect. Again as they entered the tunnel he was transported by the feeling of joy and happiness that he didn't want to end, the water once again washing over him. Dawson couldn't believe how well he felt, as they reached the entrance. Turning to Si; he remarked that it was understandable how Varden was so intrigued with the water and cave.
Si gazed deeply into Dawson's eyes. "You mustn't tell anyone about this place – I mean it! Not even your friends. There'll be big trouble if Gregor finds out about my home." The creature had never felt more certain about anything else, it had always been a worry to him helping Varden, but he couldn't say no to his new friend.
Standing at the entrance Dawson promised he'd not say a word. "You mustn't worry about Gregor; me and my men are going to do everything we can to help you and the children – once we get back home and sort this mess out of course."
Dawson remembered every moment of being a prisoner under Gregor. "That man has my stun gun, so we'll have to be very careful, though my friends also have stun guns too, so we hopefully will get the upper hand." He couldn't forget the way he'd been treated by this man they called the Master; and had told Addie that because it was personal, Gregor should be made an example of, to stop anyone else from following his lead. When Addie asked how he should go about it, Dawson had no idea, but was against violence of any description.
Si had heard enough rambling and quickly without Dawson realising, he picked the man up again and scrambled out and across the rocks, finally without any trouble, reaching the boat and set Dawson down.
"I Can't thank you enough for this – I feel so much better, now my energies returned."
Dawson climbed down into the boat, as Si gave him one last warning. "Remember what I said – not a word!" Si was adamant as he lifted his finger to his lips.
The others in the boat looked at each other, wondering what Si meant, though Varden knew and winked at Dawson to say he understood.