Garden of Dreams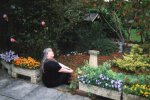 Wed, 17 Feb 2016
Understanding how undemanding
rugged roads we traveled in youth,
those bracing winds
carried us down
to the awe-inspiring ocean,
distant fields where woolly fleeces
would graze on ravaged green;
wave upon wave smashing rocks,
as scanning horizon
we'd cross our lucid dream.
But! Now I'm older,
my space and time...a contrasting sublime;
sitting here in my garden of dreams,
filled with petaled
Columbine,
Carpet of wild flowers
cascading down,
while roses climb to the sky
to catch those
golden rays up high,
In rustling of trees
I hear chanting of birds...
a carousel of sound,
as I close my eyes their call embraces me,
for one brief moment I am free.