If Music Be The Food Of Love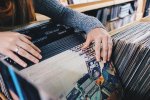 Wed, 24 Jul 2019
Dear diary...
Isn't it strange how things go full circle which never ceases to amaze me. I'm talking about my weekly visit to town just the other day, and how I decided to pay HMV a visit. I haven't been in the shop for at least a year or more, even though I pass the store every week, but to be honest with money being sparse buying music is just not viable and would be too much of a torture to look at when I can't afford to buy.
Well, on this occasion I had some birthday money to spend, so decided to treat myself. Upon entering much to my pleasant surprise there were shelves of vinyls staring back at me, not only that but there were also boxes of records lined up on tables, so many I could spend a half an hour flicking through. One of my passions once upon a time was going to record fairs and spending a day browsing, then finding rare treasured vinyls that I couldn't wait to get home and listen to.
As I flipped through each album there were box sets, one costing £600.00, I can't remember whether it was a Beatles box set, or David Bowie rarity, my memory's not what it used to be. Suddenly I was transported back to the early 1970s when I remember walking into Virgin Records which was at the top of Park Street in Bristol, with my well earned wage packet. Those teenage recollections of standing in a booth and listening before you buy, came flooding back. I remember purchasing Mike Oldfield's Tubular Bells and feeling so excited. Then there was David Bowie's Hunky Dory, Carol King's Tapestry plus many...many more that I still have to this day.
The only problem now is, that I sadly no longer own a record player and haven't for many moons, so when I noticed HMV sold decks too, I decided that my birthday money would go towards saving up and treating myself to one as a Christmas present. The decks don't appear to be that expensive, but I'd definitely want a decent one. My only worry then is that HMV might close down, they've already gone into liquidation once, but reopened. It would leave me with the problem of; 'where do I acquire a stylus when I need a new one?' The assistant did suggest Argos, but even they are sadly closing down their town shop, due to online shopping. It seems like the state of affairs now a days, I can see the time coming when we live in a ghost town.
I recall my birthday in 1966, I was twelve and mum and dad bought me my very first record player which had a stacked system in the middle, you could place a number of vinyls on and they would drop automatically. I did have an old record player before that, but it sounded very tinny and you'd have to turn the sound up to full volume to get any kind of effect or atmosphere, I suppose it was the time of the tiny transistor radios that you'd hold at your ear to hear.
I remember buying singles at our little Gateway supermarket in the village where I lived, for about three shillings and eleven pence, that was always pronounced; 'three shillings and elevenpunce,' back in the day. Mum would give me sixpence a week pocket money, which was a lot in the early sixties and I would save it up until I had enough to spend. I recall getting excited buying those early 60s singles that were part of my growing up years.
Not only did I get a record player, but my cool gran bought me the LP by the Rolling Stones – High Tides And Green Grass, which I still cherish to this day, it was the first album I ever had which got played over and over. Thanks so much for that gran.
I've now started going through my old singles collection and found such wonderful hits like:
The Four Pennies – Juliet.
Hedgehoppers Anonymous – It's Good News Week.
Manfred Mann – Oh No, Not My Baby.
The Newbeats – Bread And Butter.
Peter And Gordan – Nobody I Know.
The Yard Birds – For Your Love.
Wayne Fontana – The Game Of Love.
Del Shannon – Keep Searchin' ( We'll Follow The Sun )
The Ivy League – Tossing And Turning.
The Animals – Bring It On Home To Me.
The Beatles – Day Tripper and also Help!
Many more singles that have been hidden away, now pop out and say hello, with me thinking I'd never be able to play them again.
So roll on Christmas so that I can turn back the clock and hear all those important tunes that gave me such a buzz. Boy! Am I glad I never sold any of my vinyl collection.
Picture by pixabay free images.