Journey Into Fairy Woodland Part four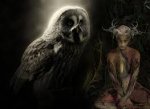 Tue, 29 Mar 2022
Alvar and his brother had arrived at the entrance to the oak ready and waiting for the procession of fay to arrive with Anemone and her sister Celandine.
Owl was also awaiting their arrival having been out hunting and not having much luck catching his prey, he was eager to get on with the ceremony so that he could be free for the rest of the day to satisfy his cravings. He hooted his annoyance, feeling hunger get the better of him.
Alvar was as eager for Anemone to arrive as the bird. "Sorry owl, they should be here very soon, just have to be patient."
All of a sudden through the air flew Anemone with her maids in waiting and her sister by her side. All the other fay held hands while sprinkling magical fairy dust all around with their wings, and a special bit of magic dust on owl so he would be able to speak. The magic would also bring together birds, bees and butterflies...even squirrels were inquisitive and came scampering along limbs to take in the spectacle.
The procession came to land on the branches of the oak and sat behind King Oberon and Queen Luna. On another branch sat Alston and his Lady Rosa, the two couples smiled happy to be united.
Anemone flew down beside Alvar slightly blushing as she smiled with glee, she could feel her cheeks burning, but Alvar took her hand and squeezed it suddenly feeling a burst of pride, for now he knew that everything about Anemone was perfect for him.
Owl coughed finding his vocals, and began speaking in his poshest voice. "Welcome young and old...also creatures of our homeland. This is certainly an auspicious occasion that I'm honoured to be a part of." There was a hush as owl continued.
"Myself and Anemone have been friends for a very long time," owl coughed again clearing his throat. "So it's a great privilege to give my blessing to Anemone and Alvar, and hope they have many happy moments together."
There was a clapping from the fay folk and a shout of "hear! Hear!"
Then a tiny young fay approached with a squeaky giggle and placed three magical ribbons of yellow, silver and green across the hands of the couple. Anemone and Alvar began the first interlacing of the ribbons,
Clearing his throat once again, owl coughed and commenced with the binding. "As the sun rises each morning and warms the earth, will you both keep each other safe for all your days?" Owl watched as the couple gazed into each others eyes, he gave an owl call, "hoo! Hoo!" Which was a sign he was delighted for the couple.
"Yes we will," they spoke in unison with smiling faces, performing the second interlacing.
"You both take care of the woodland," declared owl, "so now will you protect each other?"
Again the happy couple replied, "yes...we will," while carrying out the third interlacing of the ribbons.
"As the moon lights our way at night, will you bring brightness where there's fear?" Bellowed owl, making sure he could be heard by all the fay.
Anemone and Alvar knew the woodland could hold many dangers by night, but together all fear would be put aside. Alvar replied, "I will always try to be there when hazards arise."
"And I too will be by your side when unpredictable moments occur," replied Anemone.
Soon all the magical ribbons were completed and the plait placed under the talons of owl, to which he said; "I bless these ribbons with increasing love, and ask that the couple take their plait and place it somewhere safe...will you both honour the binding?"
Anemone and Alvar took the plaited ribbons and kissed them. Alvar nodded to Anemone then turned to owl. "We both promise to keep the binding safe and always remember this day." At that moment they kissed and Anemone dazzled with warmth recalling their very first kiss that was so special.
The other fairies began to clap and cheer. King Oberon and Queen Luna couldn't have been more proud.
Alvar's father felt memories of his own wife Lady Rosa, recalling their own first meeting so many moons ago. He took her hand and gently kissed it. "I think our son will make a fine prince, he has all the makings of someone who cares for all the fay in Wistful woods." Lady Rosa agreed with happy tears in her eyes and took Alson's hand.
Owl watched as the procession of fairies hastened away like the wind to the faint sound of wooden flutes and panpipes played by woodland fay.
It was early afternoon and distant rays hung like veils that held elusive secrets. There was wild dancing through shafts of light as fay held hands and twirled in the air, while some fairies became gleaming orbs darting here and there between trees, their lights flickering as they made their way back to the home of Alson and Rosa.
Spring's sunshine freshness eased any doubts of unexpected rain or chill winds, for soon it would be summer, and the very young would be driven to have a good time, making the music of nature with goodness in their hearts. They would again weave their own elusive secrets into lyrics, making new stories to be told.
One day in the future Anemone and Alvar would have young of their own, pausing to reflect and wonder how their lives would turn out. But for now the happy couple will enjoy the celebrations. When night falls they'll lie in each others arms on the soft mossy bed in the great oak and dream of their special day in Wistful Wood.
The end.
Pixabay free image.