Our Florida Trip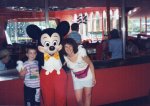 Tue, 13 Sep 2016
Dear diary...visiting Florida for the first time back in 1990 was an experience I'll never forget. We'd put our three cats into a cattery the day before we left for the airport at the ungodly hour of 4am. The drive was filled with mixed thoughts, excitement but also feelings of not knowing what to expect, not only were we going to a foreign country, but we were going for four weeks and it had been years since I'd traveled abroad.
My husband at the time had given me a choice of either having an extension built onto our house making it bigger, or going to Orlando for four weeks, that was two weeks at the theme parks and two weeks at the beach. There was no doubt in my mind as to my choice, so here we were on our way.
Once at the airport we did all the usual pa lava of signing in, showing our passports. As my memory serves me we were on the plane in good time. Flying with Virgin Air Lines, they made us feel so comfortable and I was in my element being waited on, this was something I wasn't used to, usually it was me waiting on others. We were given lots of little gifts too, like headphones for watching films or listening to music and also a bag of goodies.
To my astonishment my seven year old son was well behaved on that flight which was a blessing, the one thing I was dreading more than anything was that he'd play up and I would be tearing my hair out. It seemed Virgin had thought of everything and the seating was so comfortable with plenty of leg room, because it was an eight hour flight. We also had meals provided which I hasten to add were very tasty, or so I recall.
Touching down at the airport in Florida, I looked out of the plane window and was so surprised at how green, fresh and beautiful everything looked, I expected everywhere to be sandy and dirty like the desert, but I was so wrong in my thoughts...remember this was before the internet, so I had no idea of what to expect, apart from the brochures we'd picked up at the travel agents.
The airport itself was huge, very spacious and clean with many shops, there was even a restaurant come bar. The shops were enticing as we had time to spare, but we were jet lagged and in much need of a drink, so went to the bar.
Leaving the airport, the heat hit me, I'd never known such temperatures and wondered if I'd ever survive the four weeks living in what seemed at the time to be a permanent sauna, even for someone like me who loved the warmth back then.
We'd hired a car for the four weeks we were there which was really important when visiting Florida with its many places to explore. Picking up our vehicle, how wonderful it was to feel the air conditioning as we got in, you wouldn't believe what a difference it made to our trip.
For me Orlando was breathtaking and had me reaching for my camera at every turn, with its huge palm trees and lush plants, though I suppose for anyone living there it wasn't anything special, but for me who hadn't done much traveling at the time, it was paradise with it's well kept gardens.
We were staying at a place on International Drive, it was close to all the eating out restaurants and other amenities, but the main reason we chose to stay there was because it was close to Disney World, Epcot and Universal Studios, also MGM Studios, all of which we couldn't wait to visit, I was like an excited child though as I'd already mentioned very jet lagged.
We arrived in Orlando at about 5.30pm on a Saturday afternoon, I have to say I didn't feel well at all. Picking up our keys we made our way to our room which was a double. It felt like I was coming down with the flu, with mixtures of hot and cold sweats and aching body. Hubby took my son out for something to eat, while I put the air conditioning on, took a couple of paracetamol deciding to rest, it was a good thing I did because I managed to sleep right through till early the next morning and felt a lot better.
All my aches and pains had disappeared and I was so hungry for some breakfast. We were spoiled for choice as to where to eat, there were so many signs displaying billboards, announcing they were the best place to dine on the Drive. I cannot remember where we ate, but all the food was amazing with loads of it as I recall. They also did the biggest, best burgers I've ever tasted, they were the size of steaks and deliciously mouth watering.
On the first day, we visited the Magic Kingdom which was a short drive. After parking in the gigantic car park, we followed the signs for entry in. On arriving at the main gate we were welcomed by a voice announcing; "All aboard the Disney Express." Well, we couldn't resist a ride, so climbed aboard as hubby paid the fare. As the train began moving, there was a toot toot and we were away on our journey, which took us on a short trip half way around the park. We even managed to see Goofy water skiing on the lake which was a sight to behold.
Next hubby took my son on the teacup and saucer ride, you sat in a teacup which was based on Alice In Wonderland and it spun around, not too fast, but just enough to get you excited, I never went on, but took some photos of their smiling faces.
We then made our way to the little village where Micky Mouse lived, there were miniature shops, we even went into Micky's little house and studio. Walking through there was a little kitchen and a living room, then through the backdoor we were led into the garden where Micky's washing hung on the line, it was so adorable. Next we met Micky and he signed my son's autograph book, it was his very first autograph and he was so proud.
Our next place to see was, It's A Small World, where you climb in a boat and are taken on a ride through the land of dolls. It was so colorful and musical with the many costumes that had me Oohing and Ah-hing! At every turn, though my son didn't show much interest being a typical boy.
It was also time for some shopping. We walked under the castle tower, coming out the other side and looking in a lot of the shops, but everything was so expensive that I ended up buying some key rings and a crystal ball with the magic kingdom inside. There were some amazing gifts to be had if money were no object.
We went on Thunder Mountain which was a ride and a half and left us so uplifted at the end. Then it was onto the Carousel Of Progress which gave out so much information about the Progress of the American Family. So many rides we went on, but we needed to get to main street for the parade, so we had to move fast. As the parade got started my camera was working overtime. There was so much to see it was hard to know where to look next. Also I was fascinated by the many shops and displays, the brightly painted buildings all down main street, which gave me a sense of going back in time.
Luckily we had two days at the Magic Kingdom, because we couldn't see everything in one day, there was just so much to see, but we decided to get some much needed food. Stopping off at this place which I cannot remember the name of, we sat down while hubby ordered, we tucked into burger and chips yet again with a side salad. We were impressed to see Micky entering, I just had to get a photo of me and my son with the great mouse himself. My seven year old was speechless and couldn't stop smiling and neither could I as hubby took the photo.