Drowning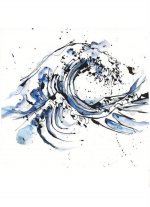 Fri, 03 Jul 2015
I've told you before
I remember nearly drowning once
that had seemed tame from the sand
my voice stolen by marbled effervescence
and vastness- shoulders surrendering.
That time the rip took me back in.
This place is a sea too you know.
Its basalty bed rests in cold darkness
fathoms below the streets, the lights
and our ever-treading soles. 
Waves sweep through windows
and the rip swipes your feet from
the surest of floors
You called out, didn't you?
As loudly as you could have,
and yet almost imperceptibly
the noise, the talk and the metal tides.